Photography:Courtesy the architects
.
Last August, the world's leading automotive destination, Wolfsburg, saw the unveiling of a state-of-the-art facility that especially caters to familiarizing the driver with the latest automotive technologies.
The state-of-the-art Volkswagen facility at Wolfsburg in North Germany, in tandem with its avant garde automotive systems and fit-out, has had Berlin-based architecture firm, Graft Studio develop a driving attraction at the Autostadt to offer guests an opportunity to try out technical systems, including automatic parking, traffic sign recognition and automatic distance control in models manufactured by Volkswagen.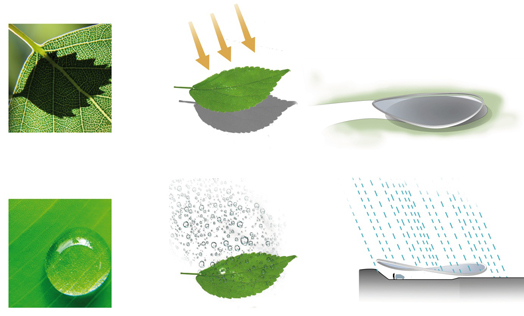 The lea

f

as inspiration
The facility combines clear customer focus, quality and service into a truly unique experience. Guests here can become familiar with current and future Volkswagen Group technologies and indulge in the passion of a coveted automotive experience. They can also drive the XL1 and e-up!, two vehicles that point the way to automotive future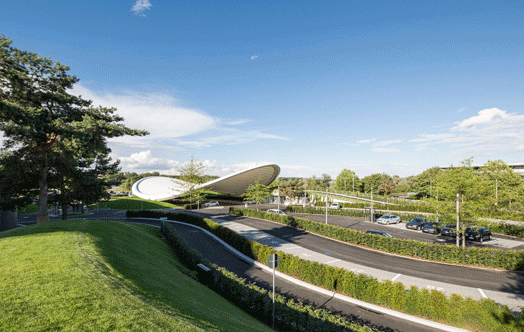 .
The immediate aspect that holds your gaze is the sweeping architectural landmark – the roof. A special static principle allows for the unique roof structure to be anchored in just two points. The organic, double-contoured form of the roof resembles a protective leaf placed over the landscape.
The roof in perspective
Working in cooperation with landscape architects from WES Landschafts Architektur, who have seamlessly integrated the structure into the surrounding park and lagoon environment; and Schlaich Bergmann and Partner for planning of the structural framework, the 315-metre 'lap of honour', as it is called covers 15,000 sq. m of area – reflecting the importance of its status as a space dedicated to customers.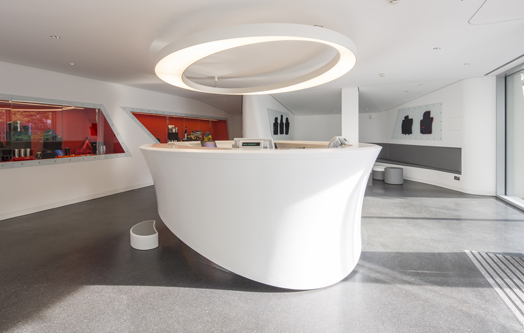 The architectural vocabulary is sustained with soft contours in the interiors
Customers picking up their new cars are thoroughly briefed by experts in the Customer Centre. Afterwards, they can take their time and try out the new vehicle gaining the chance to learn about new systems and technologies in a live setting, away from everyday road traffic.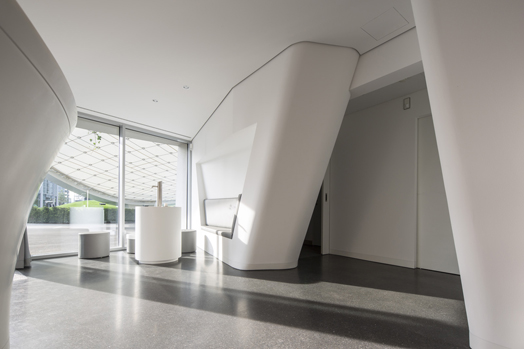 .
The orientation of the roof represents a welcoming structure through its curvature. The elegant amorphous geometry of the roof forms an evident bridge between top and bottom, sky and landscape.