By Beverly Pereira
Photography: Courtesy the architects
.
A market, restaurant and exhibition centre housed under a 'living' landscaped roof seeks to start a food revolution
Paris-based XTU Architects have conceptualized the French pavilion that blurs the boundaries of a traditional market place and centre for agricultural production. In response to the theme of Expo Milan 2015, 'Feeding the Planet, Energy for Life', the team believes that the proposed pavilion will direct thought towards changed production and consumption habits.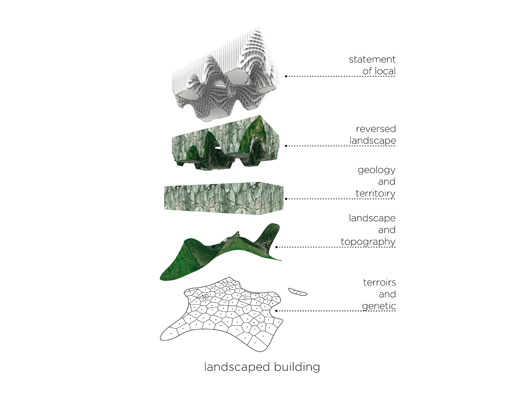 Schema
XTU Architects will build a temporary 3,500 sq.mt. structure for the six-month-long exposition. Divided into three zones – a ground-level food exhibition, a terrace for food consumption and facade and roof for food production - the project aims to become an agricultural hub for production and on-the-spot consumption.
.
.
The entire structure, including floor and facade will be crafted from locally sourced wood, while innovative and free-form architectural style created using latticed layers of timber wood will form the structure's interior and exterior, bringing in light and fresh air.
.
The vaulted ceiling is a result of the structure's exposed wooden exterior. Plants and crops that grow on the roof and façade will creep through the gaps, lending the landscaped ceiling elements of the French countryside's fertile rolling hills.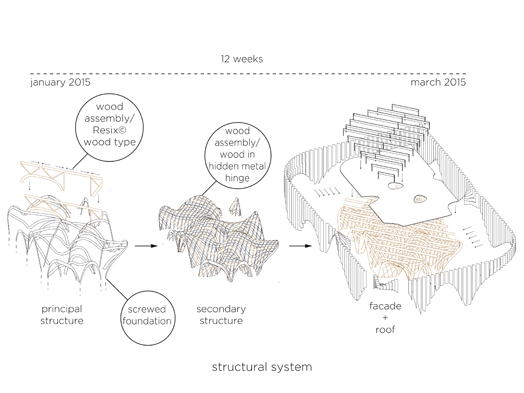 .
An exhibition on the ground level will focus on France's food production techniques, while the upper-level restaurant will serve vegetables grown on site using hydroponic processes, along with aromatic herbs grown on the terrace.
.
Slated to be ready by May 2015 ahead of Milan Expo, visitors will also be treated to a harvest celebration of crops, vegetables and herbs once the exposition culminates. Lightweight construction methods ensure that the structure will be reused after the event.
.
Taking into account that there will be an estimated nine billion people on earth by the end of 2050, this project seeks to find a solution for self-sufficiency that the architects hope will influence the future of the planet.