Photography: Hiroshi Ueda & Ryogo Utatsu; courtesy the architect
.
Breaking away from the stereotype, Ar. Kazuhiko Kishimoto designs a home-cum-office-cum-gallery, tailored as a cocoon for the family, while it maximizes the view to the woody surroundings.
The house stands on a site facing a narrow, steep slope in Yokohama, Kanagawa. Across the street lay the moody woods offering scenic views of lush greenery during the summers and crimson foliage in autumn. Catering to the client's brief of keeping the home open to the town community; Ar. Kazuhiko Kishimoto designs a "floating" home.
.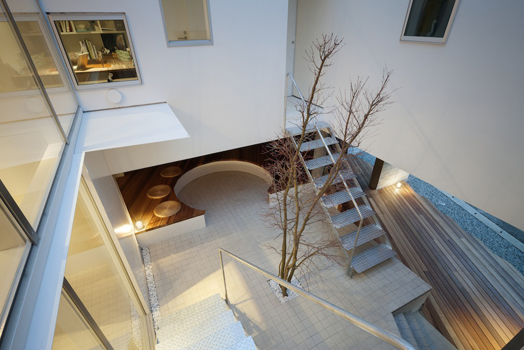 .
To be precise, the gallery is the only grounded room, which is surrounded by a breezy and sunny wood deck raised at about 1 metre. A rotund hollow scooped into the deck floor accommodates a round bench, where people can sit and enjoy meals while they rake in the view of the woods beyond.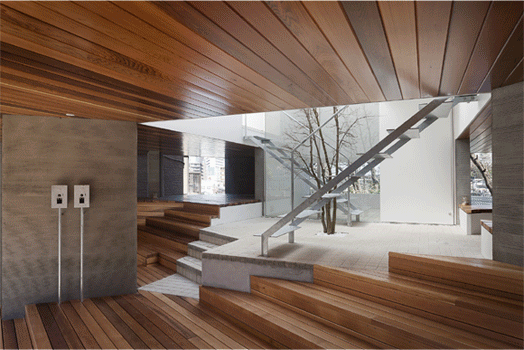 .
The space doubles up as an external gallery, where the wood deck, tilting towards the sloped road in front of the house, creates a place fostering interaction between the interiors and exteriors.
.
.
Two staircases define distinct approaches to the home and office. Irrespective, every area, whether home or office communicates with the exterior through large geometric openings – some stark; others glass-encased, letting in abundant natural light into the interiors.
The architectural vocabulary is minimalist and swings from a wood to white envelope, transiting spaces in a composition that is anything but a layout from a conventional residence. Ambiences merge and yet hold their distinctive auras; multi-level platforms add intrigue; and the non-conventional and simplistic treatment turn the project on its head – making a nondescript structure from the exterior quite a powerhouse of design on the interior.