By Pari Syal
Photography: courtesy the architects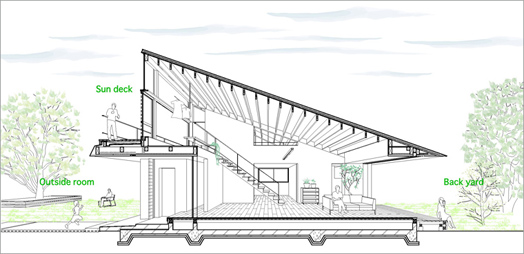 .
Tokyo's Naoi Architecture and Design Office design a home that communes with nature via its large hipped roof, partially open to the sky…
Designing a home amidst lush 'satoyama' or semi-natural woodlands in Ibaraki Prefecture, Japan, Tokyo-based architects, Katsutoshi and Noriko Naoi have woven a single-storeyed home into the natural landscape, blurring the interior-exterior boundaries with traditional Japanese architectural vocabulary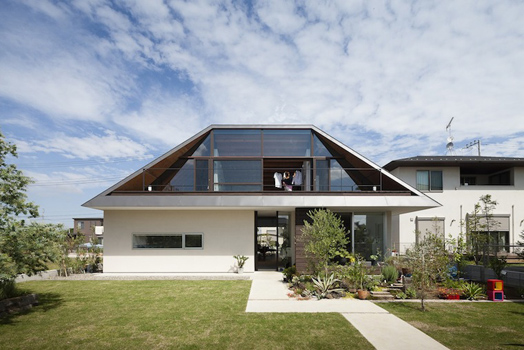 .
Responding to the client brief of a simple home with garage for two cars, the architects have helped nurture their clients' sensibilities by attuning them to their naturally beautiful surroundings; in tandem with the large footprint of the home.
.
Open to the

neighbourhood

, the site faces two streets - on the north and south sides, with the front yards on both sides used as community parks for the residents. Unfettered, without any fencing, and simulating the natural landscape, the home sports a large hipped roof; and the interiors sport an open square plan intersected by living room in the middle, and master bedroom, bathroom, dining/kitchen and closet along both outer zones.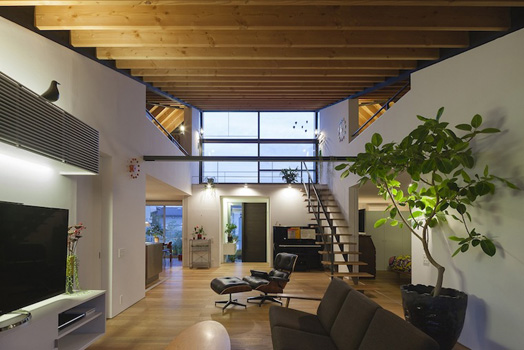 .
.
The living room extends horizontally via the 'engawa' or veranda-like intermediate space located between the interior and the exterior. Following Japanese traditional interiors, the living areas can be divided, at will, into private and community living spaces.
.
.
While a section of the home resembles that of a traditional folk house, composed as it is of a one-story living space with an attic, and its large hipped roof made of girders and rafters; the interiors are contemporary, defined by simple clean lines and a muted colour palette.
The highlight is a large sky window on the entire south side of the hipped roof that brings in the beautiful sky into the home.