Hospitality Design Special
Info & Image:Courtesy the architects
The Polour Rock Climbing Hall is a spirited sports facility – architecturally contextual and iconic…
The Polour village to the south of Mount Damavand – the highest scalable peak in Iran, houses the best settlement for mountain climbers in the region. It marks the starting point of mountain climbing with at least 16 known routes to the summit – some very dangerous requiring rock climbing.
Plans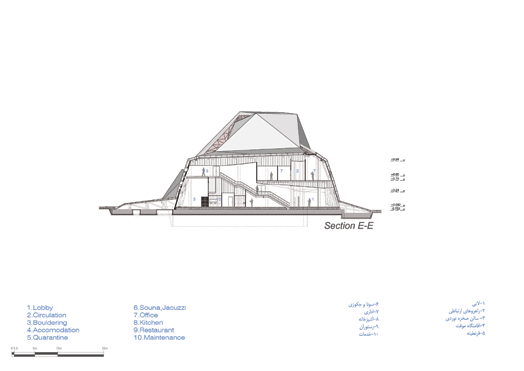 Sections
Commissioned by the Development and Maintenance of Sports Facilities, Iran, the Rock Climbing Hall designed by architects, Lida Almassian anf Shahin Heidari from Tehran-based New Wave Architecture, is inspired by the geological process of the large-scale movements of the earth's crust and its tectonic forces. The facility is designed to simulate the exhilarating rock-climbing experience for both, adventurers and onlookers alike.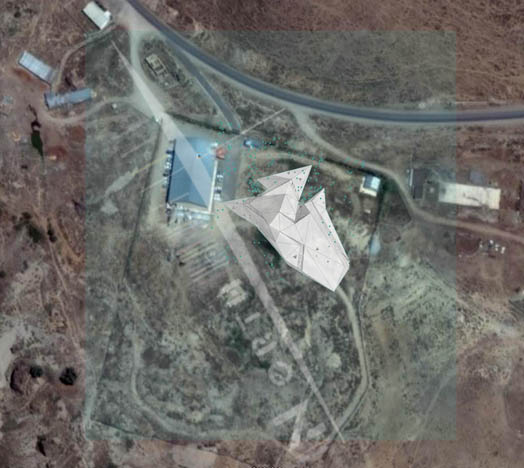 Aerial View
The fragmented mass becomes a multi-faceted entity; it stems from the layers of nature and gradually rises, peaks and ebbs soberly. Nature and landscape visually creep into the building through the transitive atrium and triangular openings, flooded with natural daylight and providing a dynamic sport hall for climbers, from training to competition.
.
The climbing walls are mounted in front of the atrium, proposing new impressions for the moving observer.Both the users inside and viewers outside interact in a dynamic relationship with the climbing gym, while the exterior facets offer outdoor bouldering for climbers.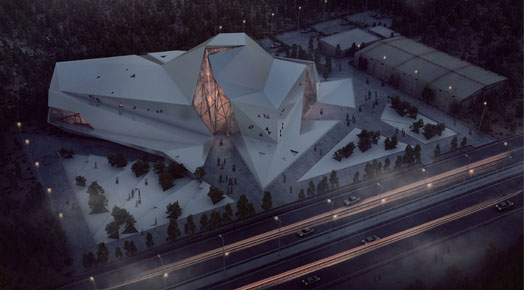 .
With approximately a total area of 4500 square meters extending along south-east to south-west, the rock climbing gym creates a tangible architectural space, where aesthetics is as prominent as performance. Bouldering hall, temporary accommodation zone, fitness gyms and maintenance areas are enclosed by boulder–like walls.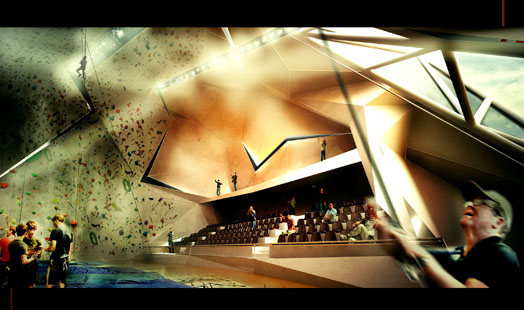 .
Structural strength comes from steel moment resisting frames that are used as the main structural system; while tubular trusses transmit the floor loads to vertical elements due to project long spans.
.
In harmony with the dominant colour of the surroundings, white fibre cement panels comprise the exterior facets of the built form, merging the building into the surrounding, heightening the experience.