Info & Images: Courtesy MN Design
.
Prism is a table that tells a story. As designer Maurie Novak narrates his concept of his table, you will see that no matter what angle you look at this table from, it will show you something new… always.
Designer
Maurie Novak of MN Design, Australia abides by a simple philosophy: "
Both architecture and design are practices that spawn from the imagination; through MN Design, I try to bring the delight and improbability of the imagined to life."
.
Taking on architecture, furniture, industrial design and other projects is a more rounded way of developing a design language, where each type of design feeds into the others, and by using his hands to build many of the projects himself, Maurie has been able to gain a better appreciation and understanding of materials and the way they work.
His latest Prism table reinvents the simple four-legged functional indispensable into a vivid and desirable object of colour and light.
Like a prism refracting light - this table takes lines of colour, emerging from a single bar and transforms them across its frame. By weaving and twisting its linear geometry, the table transforms from point to point; the maze of mixing colours creating surfaces that meld together to form a beautiful whole.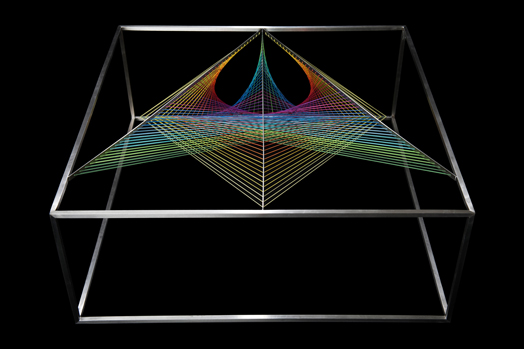 .
"Prism is a table that embodies a lot of what I try to bring to my designs," explains Maurie, continuing, "A minimalism in its form and function, combined with a complexity that can reveal something beautiful, unexpected and hopefully somewhat incomprehensible. It is very important to me that a design is as purely represented as possible. Prism table has the most basic structure I could achieve, being made from a 16mm solid steel frame, this allows the table to be strong, whilst being very minimal."
The beauty of colour being formed as a result of light passing through a prism had always transfixed Maurie. The simplicity of nature in creating such an exquisite phenomenon was an intriguing core thought when he was experimenting with colours, trying to come up with this table, struck as he was by the beautiful parallel created between his form and the scientific spectacle. "The way that the patterns interact and expand allows a constant flow of colour, which emanates from a single bar of white shining stainless steel," he informs. "I used elastic to achieve this effect because it is a material that stays tight, and is very conducive to everyday living environments - if it is kicked the elastic will return to its original position without harm."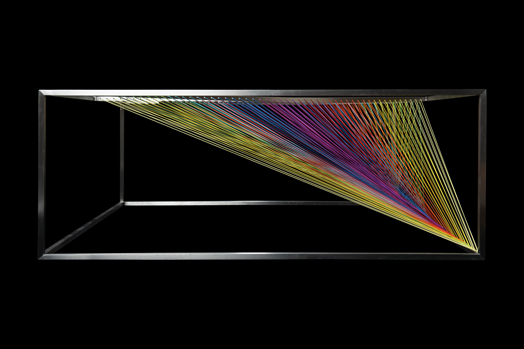 .
Talking about his creative contentment, Mauri says, "What I feel is successful about it is that whilst being so complex, it actually follows a very basic logic, and is made up of only two patterns repeating in the mirror. For me it is not a success on its own, it is a starting point in a process, a first step in the right direction, which I aim to continue exploring through future works."
IAnD applauds this design and looks forward to more thought-provoking ideas from the Novak stable.
Table dimensions are: 120 x 120 x 46 cm
Materials: Stainless Steel, Elastic, Glass