Photography: Courtesy TRIpike
"Nobody will see a detail but everybody will feel its presence" is the basic principle behind the role of design in enhancing everyday experiences. The REML shelf is one such…
Two young Slovenian students of architecture - Luka Fabjan and Tadej Podakar, working under the name TRIpike (meaning three dots), are sticklers for conscientious design as they look for simple solutions to everyday demands by quality use of space.
Their designs are a combination of simplicity, elegance, detail, functionality and quality. One such smart design is the REML (Slovenian expression for short wooden beam) shelf, which epitomizes quality use of space and adds aesthetic value to one of the basic household furniture pieces – the ubiquitous shelf.
Made out of Slovenian larch wood, the shelf is a combination of wood components. Basic semi-finished wooden beams, each 80cm long are cut to follow the natural characteristics of the material, which itself determines the shape. One of the edges is triangular sawed off to get a simple and attractive final form. The new form is called - REML, which highlights the key properties of wood: massiveness, solidity and structure.
These stylishly-cut wooden beams can then be configured via horizontal and vertical permutations to form the REML shelf - a multi-purpose wall-hung rack, which can be customized to one's preferences. In fact the wooden beams are so cut that when arranged, create a gap that can house a book or glass plate that could in turn act as shelf to some vertically placed books or objects.
The REML shelf can be used singly or in multiples; the focus of the design highlighting its key properties. The product is currently being worked upon for effective logistics for optimum production and supply world over.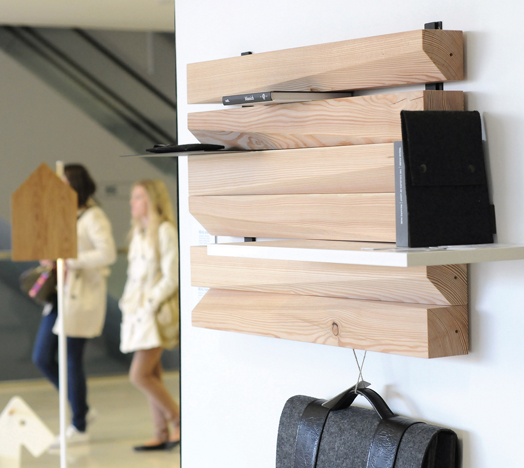 .
While the young architect duo are constantly working on ideas, where design leads to simplification, their basic premise underlines the simplicity of processing material – whether wood, metal, glass, whatever; where an honest approach seems their key to good design.