Photography: Courtesy Carlo Enzo
.
New York's Urban Office Architecture, under Principal Architect Carlo Enzo, has conceptualized and begun work on an extremely creative and challenging project…
Aviator's Villa is a house designed for a retired pilot in such a way that he feels airborne and doesn't miss his passion for flying.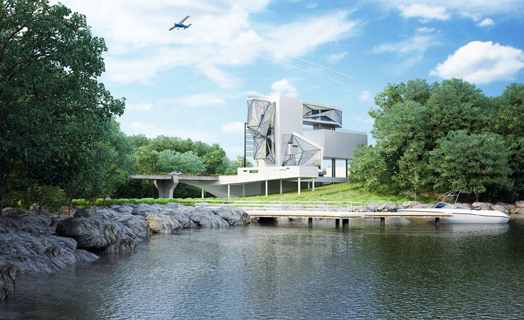 .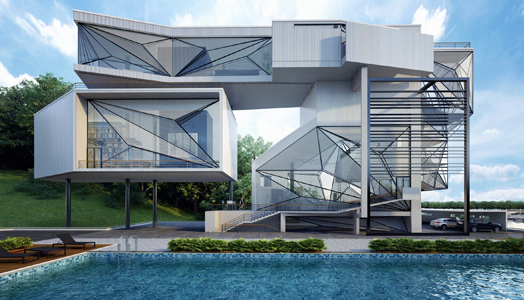 .
Situated on a large open, green, hilly estate in Duchess County, next to a lake and endowed with a personal swimming pool, the house - mounted on riveted frames and screened by perforated metal paneling

or brise soleils

- plays on the concept of being surrounded by water on its North and South, while being exposed to air on all sides.

The architecture is imagined as a "floating piece between two water bodies" and just as a plane would navigate through clouds, the house "turns and torques to face the sky, the surrounding views and the water".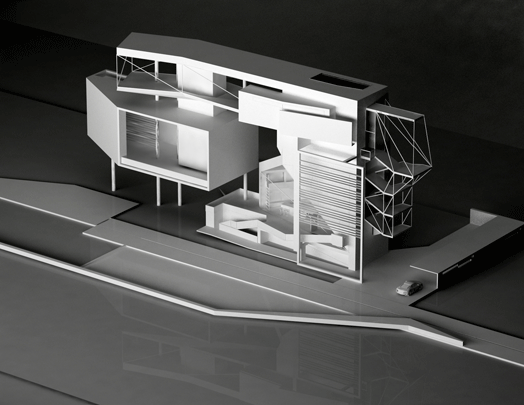 Model
At the same time, its large angular glass windows on three sides allow maximum daylight and the imagination of sitting in a cockpit. The various exterior elements, clubbed with simple interiors, produce soothing shadows within the house as a plane would under sunlight.
The furniture, fittings and walls have mostly been done in lighter and darker hues of brown and white to accomplish calming interiors.
.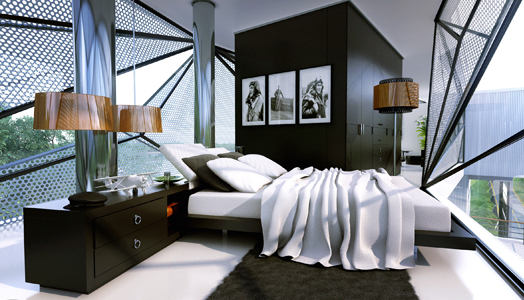 .
The villa consists of three primary spaces — a 30 feet tall living-cum-kitchen-cum-dining area,

a 40 feet bedroom, and a library that is imagined as a "Memory Box — a container of memorabilia of the pilot's past".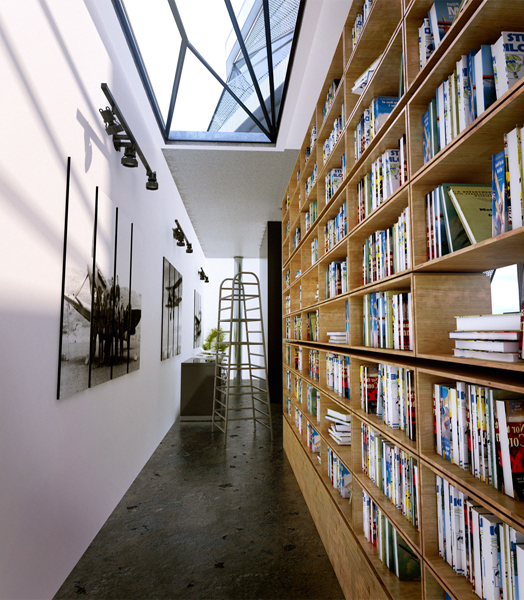 .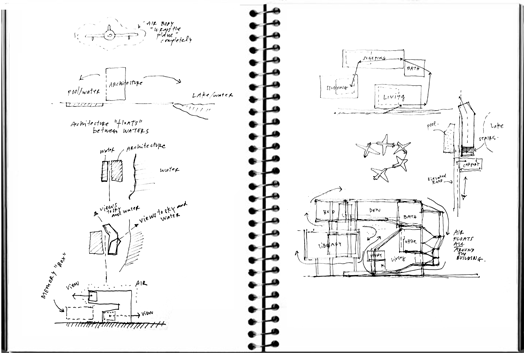 Concept
A series of small hidden spaces are "tucked" in as the pilot steers through a circulatory staircase to the bedroom at the top, while the library is accessible only through the bedroom.
.
This "

analogical continuum of disassembled flight components" is imagined "vertically and directionally" and relates to a sequence of "programmatic functions" of living, bathing, sleeping and studying; thus allowing the pilot to follow a routine of "disciplined and timed journey through the house". The villa also has a small patio for the pilot.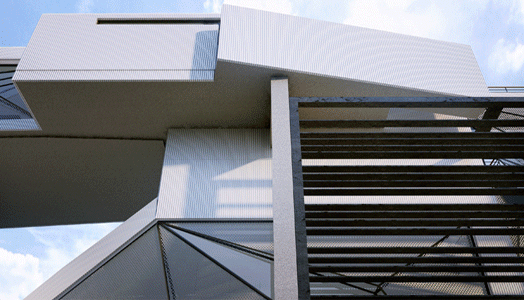 Details
The project is still in the design stage and is likely to be completed by the end of 2015.