Photography: Courtesy Henning Larsen Architects
.
Henning Larsen Architects takes a holistic approach to building design by reducing the overall environmental impact while designing the new Oslo Headquarters, in Norway…
The approach to designing modern workplaces is changing significantly. Alternate working styles with rising use of computers, cable-free networks, mobile phones and project-oriented group work has resulted in completely new requirements for office buildings. Thus, workplaces are increasingly organized as fluid spaces offering flexible zones, where the environment is more open and interactive and there is practically no room for hierarchy.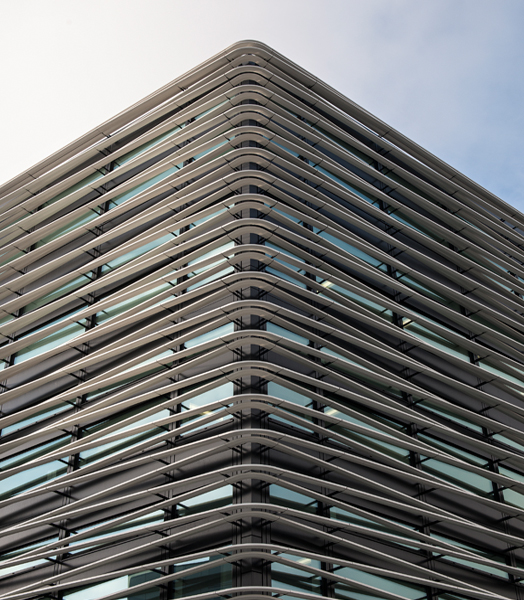 .
The new headquarters in Oslo designed by Henning Larsen Architects is a modern passive house (the design also allows for the building to be converted into residences in the future); where the Integrated Energy Design of the building meets the FutureBuilt criteria for climate-neutral building, making it one of Norway's first projects in green building design.
.
With a focus on daylight, spatial layout and sustainable materials, the large building integrates the surrounding urban space as a direct part of its spatial qualities, while it gives something back by opening up to the city, so the in-house activities enrich the surrounding city life.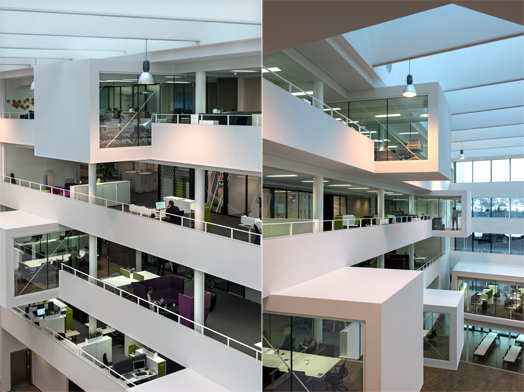 .
The building consists of two office units divided into two wings, connected by a large central panopticon-like structural expression, where displaced, cubic meeting rooms stretch out into and fill up the atrium. A staircase winds all the way up through the panopticon connecting users to the individual floors.
.
Attempt is made to blend in the scenic outdoors with the cafeteria having direct access to a peaceful south facing courtyard with large, light hardwood trees letting the light flow down through the tree crowns and a rippling water-wall shielding the courtyard from the noise and traffic of the city. But the most striking feature is the absence of corridors and the increased use of the floors as consistent landscapes without traditional hierarchy.
.
Additionally, the building is designed for flexibility with options for multifarious use, where meeting rooms are placed in close proximity to the services, so that they can be sublet to external sources. Principles of green design are applied to energy, water, resources, materials, transport, waste etc. with a particular focus on energy consumption. The project also works with sustainability in terms of materials consumption during construction, choice of cladding materials, accessibility, reduction of water consumption, waste handling, operation, usage conditions, plot maintenance etc.