By Team IAnD
Photography: Courtesy Studio Roosegaarde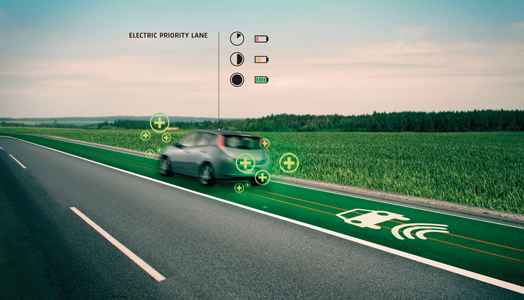 Electric Priority Lane
Smart Highway is an innovative concept for 'intelligent' roads of tomorrow. The prototype, currently being tested in Oss, Netherlands, clearly shows how design can empower.
Builder and developer Heijmans and designer Daan Roosegaarde have over the last few years taken on the daunting task of changing the Dutch landscape.
Wind Pressure
In 2012, the duo announced a rather ambitious project – that of making highways 'intelligent' with technology, where concepts of 'Glow-in-the-dark Lining', 'Dynamic Paint', 'Interactive Light' and 'Electric Priority Lane' would make the roads sustainable and interactive through means of smart lighting, harvesting energy, and traffic signs that would adapt to the road situation.
Interactive Light
This is how they would work: pathways of the Glow-in-the-dark roads are treated with a special foto-luminising powder making extra lighting unnecessary. Charged in daylight, the Glow-in-the-dark road will illuminate the contours of the road at night up to 10 hours. Dynamic Paint is a paint that becomes visible in response to temperature fluctuations, and enables the surface of roads to communicate relevant and adequate traffic information directly to drivers. For example ice-crystals become visible on the surface of the road, when it's cold and slippery.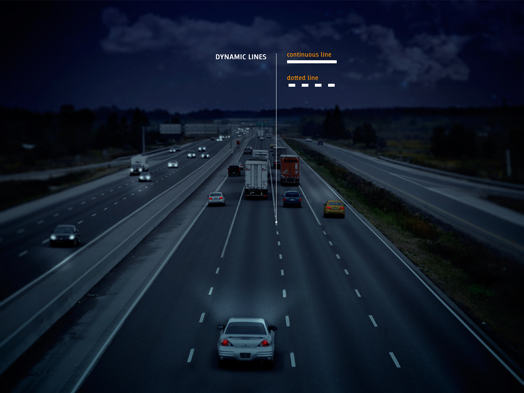 Dynamic Lines
The 'smart' concept was designated as the 'Best Future Concept' by the 2012 Dutch Design Awards and was also one of the finalists for the INDEX Award 2013, the most prestigious, international prize in the area of design.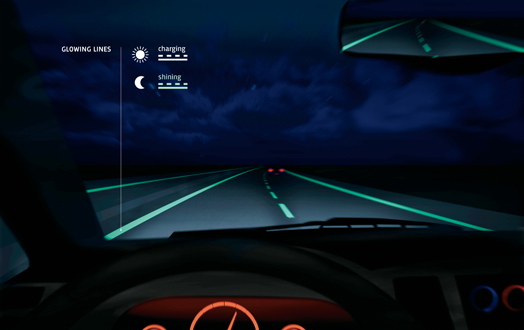 Glow Lines
Opened to public end April 2014, the first 'smart highway' prototype has been implemented with just one smart feature – Glow-in-the-dark Lining. The final Glowing Lines project is pitched for end-2015 opening. With the creative duo unstintingly working

on the product development and testing of new technological processes, in keeping with Dutch weather conditions, the project proposes to soon upgrade with additional prototypes that will incorporate new innovative ideas as part of its 'smart features'.
The project focuses on a better tomorrow with roads that are more sustainable, safe and intuitive. The focus here is on process instead of product.