Photography:
Hertha Hurnaus; courtesy the architect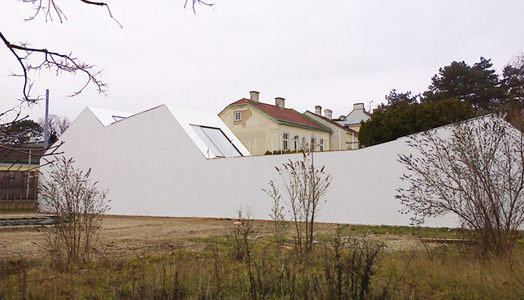 .
In its design for the housing project CJ5, Caramel Architects tackle the question of sustainable urban density on the outskirts of Vienna.
Building heights of between 4.5 and 7.5 m are permitted for the type of building prevailing there, which allows for the construction of estates of two-storey detached or terraced houses. While on the one hand, they display a high individual quality of life, with adjacent gardens and terraces on the living level, on the other, they result in very high space requirements due to their low floor area ratio (FAR) of 0.2 to 0.4.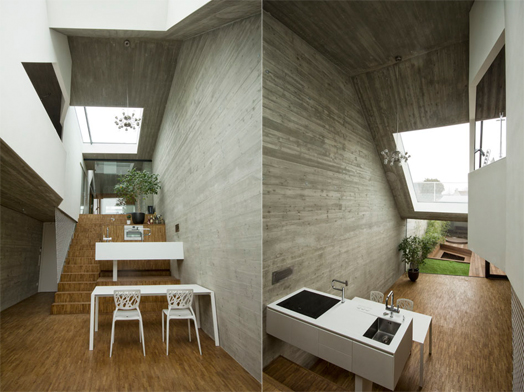 .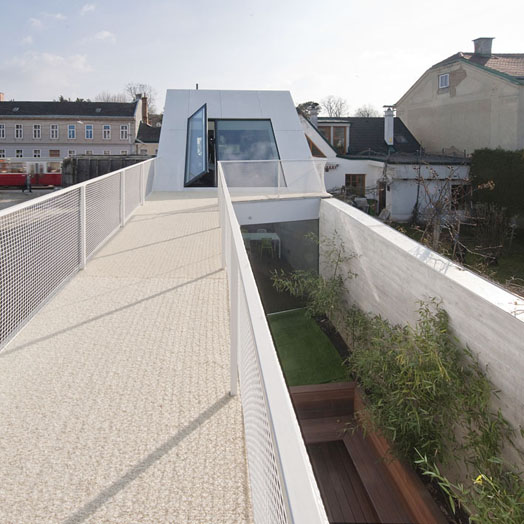 .
From an infrastructural and space-saving perspective, Caramel Architects have completed CJ5 as a pilot housing project, which both maintains the qualities of the single-family house, with a generous garden and terrace on the living level, and attains a FAR of 1.0.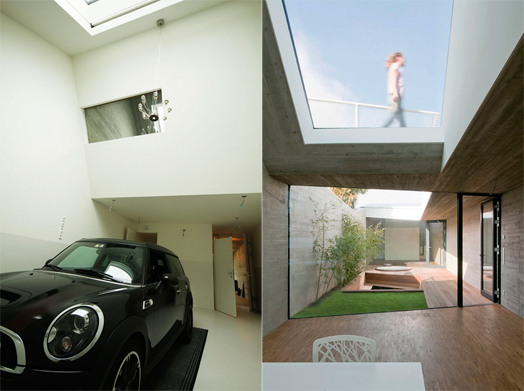 .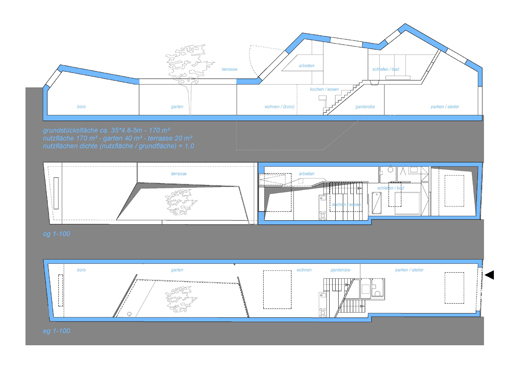 .
The accomplishment is attributed to a narrow floor plan layout of 5 x 35 m, with a three-sided firewall that facilitates direct extension; an internal connection between the living levels; a central atrium garden and focused horizontal and vertical lighting areas.
.
From the outside, one enters a relatively enclosed white spatial sculpture, which then continues to open up vertically into an internal white cube as one proceeds from the studio / garage in the entrance area to the living area and atrium garden. In this way, an internal set of very spacious interlocking rooms is developed, despite the narrowness of the property.
.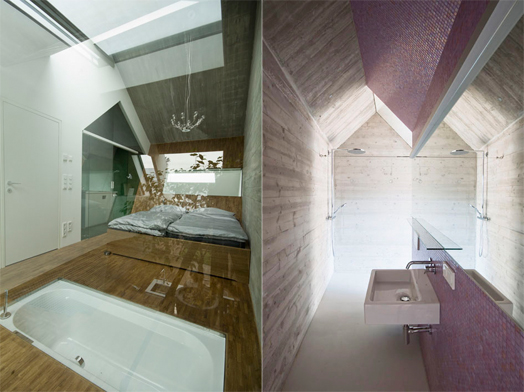 .
Continuous fair-faced concrete surfaces with a boarding look on the walls and ceilings, as well as continuous wooden floor coverings running in the same direction as the visual effect of the boarding on the walls creates a spatial continuum, which extends via the central kitchen landings as part of the landscape of the staircase and the studio, to the bedroom area on the upper storey. The bathroom and toilet, which are adjoined at the side, are then respectively developed as separate islands of colour, using tiles of the smallest possible format. The 'room in room system' creates views through all the rooms of the living and office areas and out onto the central external element, the garden atrium.
As far as energy is concerned, the house is almost completely independent. It supplies its own needs from photovoltaic panels on the south-facing areas of the roof, and from an air-to-water heating pump. It has also been developed as a low-energy house with respect to its insulation values (heating requirements 41 kWh/m²/a).