Photography:
Estúdio AMATAM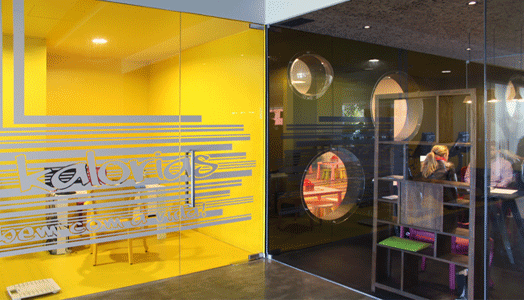 .
The cheerful interior of the Fitness Club Tejo in Lisbon reinstates the fact that there are no set patterns, nor set norms in designing interiors…
Working on the interior shell of an exceptionally striking built form, in close proximity to the World Expo 1998 building in uptown Lisbon, the Kalorias Fitness Club needed to be brought to life as dynamically as its exterior environment – replete with an amazing surrounding landscape and quality urban spaces.
.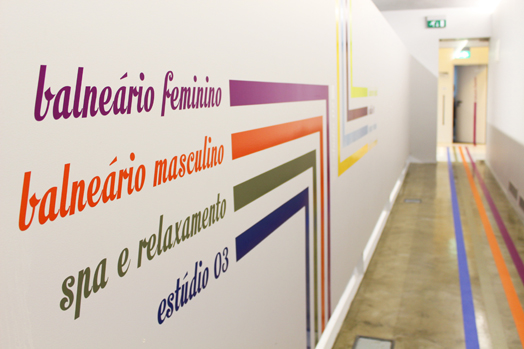 .
Bearing in mind the nature of the facility, architect studio AMATAM has worked on a stimulating recreational program in tandem with the brand image of Kalorias. The 1700 sq. m. fitness fit-out, is groomed to have a strikingly neutral shell that is streaked with fluid bands of colour – signaling spatial function and heralding way finding.
.
.
While the coloured bands, generally reminiscent of signage in medical facilities infuse the space with a natural vibrancy, bold use of colours black, blue and yellow take the thematic forward in a space that could otherwise be uplifted with graphic artwork and the like. Space-within-space concepts define a subtle narrative. A creative use of glass is a notable value-add. The thematic ensures that each room now has its own recognizable identity.
.
.
Apart from trending the interiors with bursts of colour, the renovated environs have also been spatially reorganized. New areas have been defined. The earlier shell that was more like a labyrinth now enables greater transparency, creating clearer references. Customer services and a children's play area sport a distinguished and striking design.
.
Overall, the facility is an understated contemporaneous environment despite its industrial flooring, hand-made cork lamps and cork walls and foam-coated furniture.