Photography: Courtesy the architect
.
SKA ice hockey team gets a new practice and play arena that is awarded the silver diploma of "The Golden Capital 2014" architectural rating, whilst still in the making…
The sports complex

gets its form from its fundamental typology – ice. Imagery simulating the ice cube is used to lend a distinct individuality to the complex and is applied to both – the form of the building and in the details of its façade.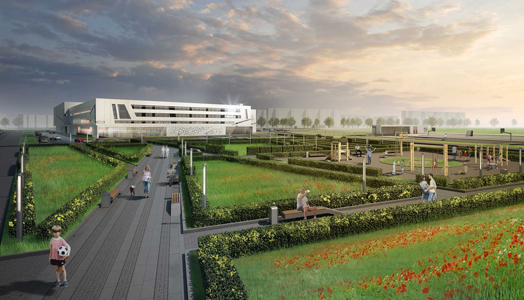 .
Conceptualized and designed by architectural firm A.Len and anticipated to be ready for the game by 2015, the sports facility also intends promoting recreation in the locality. Under construction in a prime location of St.Petersburg, Russia, the
sports complex is broadly sectioned into three blocks: Block A - a two-storey complex with two ice arenas along with multifunctional gym, utility rooms, strength training room, conference hall, cafe, museum of the 'SKA' hockey club and medico-rehabilitation centre; Block B catering to 4-8 floors athletes' temporary accommodation (a hotel for 140 persons), and Children and Youth Sports School (a boarding school for 200 persons) trainees; and Block C housing ice arena, gymnastic area, fitness room, utility rooms and café for the Children and Youth Sports School. An open field for the futsal, two open tennis courts, open basketball court, sports area, skate park and a lawn for temporary helicopter landing are also being provided for.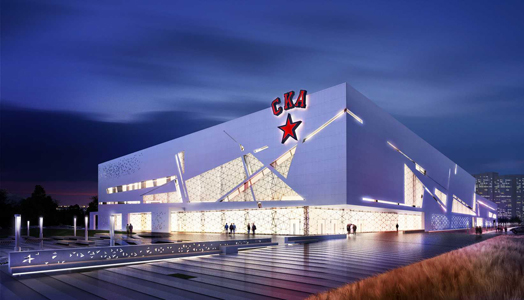 .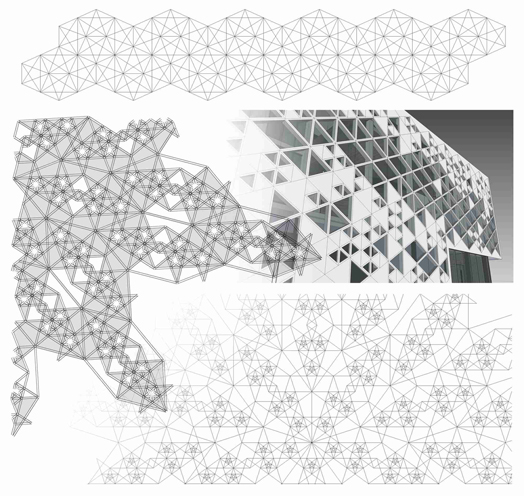 .
The transparency and prismatic typology of the ice cube is beautifully played upon to create the façade.
Resolved on a compositional level by flat prismatic volumes, the wall's gradient planes create object vibrancy. A simple linear geometry in the external facade elucidates the SKA logo. Feasibility to use new light technology in façade decoration is provided for, by virtue of which the front façade facing along a rural settlement (known as Rossiysky prospect in Russian) will be transformed into a festive
colour
enchanting spectacular view of the stadium, or into an advertising option for forthcoming matches.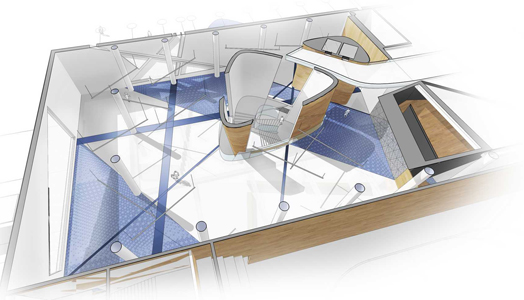 .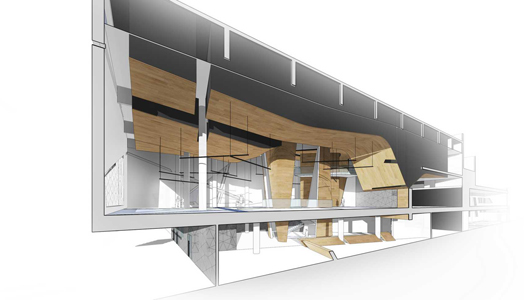 .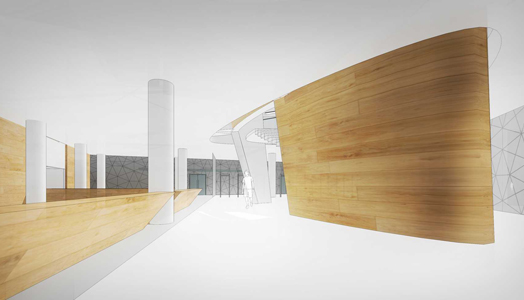 .
.
The complex also facilitates temporary alterations to suit non-trainings time by transforming the ice arenas - allowing for partial removal of glass boards and even reducing arena size (European to Canadian Standard) to provide for the organization of public ice skating, events and the like.