By Zoya
Photography: Daisuke Shima/Nacasa & Partners; courtesy the architect
Parallel rows of floating colours in the heart of Shinjuku succeed in illustrating the emotional and parabolic ethos that Ar.
Emmanuelle Moureaux
shares with Tokyo City; so much so that she plans to take the '100 Colours' series to different cities across the world…
"Colours are three-dimensional elements, like layers, that create spaces and not just add finishing touches. It's a medium to add emotions." With this definition in mind, France-born, Japan-based architect Emmanuelle Moureaux created a colourful installation that was on display from September 4 – 11, 2014, in Tokyo's Shinjuku Central Park. The installation focussed on the concept of Shikiri (dividing and creating space through colours).
.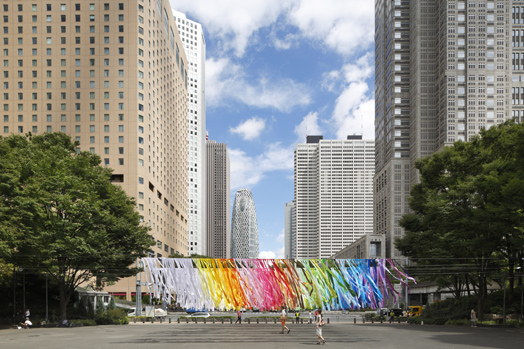 .
.
Multiple rows of 100 colours + white —from white to purple across a rainbow-like spectrum—were suspended overhead, falling to about six feet above the ground, giving park-goers a closer view of the textile strips as they "floated" in the breeze. This last characteristic "added life" to the installation, while its reflection on the concrete ground below gave an idea of space.
With high-rise buildings and clear blue sky in the background, the 100 strands seemed to "dance in the breeze" amid trees, "as if breathing in and out, creating a dynamic motion", the designer explains.
The 100 unique colours of textiles were determined in her studio by dyeing cotton fabrics and cutting them into long pieces. 1,875 strands of textiles were hand-dyed, one by one, through cold and hot water dyeing techniques, using liquid dyes with about six people from Emmanuelle's team involved in the process.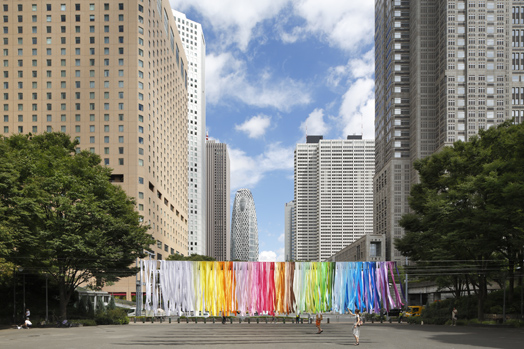 .
Emmanuelle had created a similar indoor installation last year, as part of the Shinjuku Creators Festa 2013, in the Shinjuku Mitsui Building, where she had used especially selected paper. This year, however, she used textile strips in an outdoor environment.
"Through the 100 Colours series, I want to share the emotions I felt through the cityscape when I first arrived in Tokyo," the designer explains, recollecting how fascinated she was by the colours overflowing on the streets through "store signs, flying electric cables and flashes of blue sky" that "created layers in the city". Successfully illustrating this complex depth of emotions, Emmanuelle invites the public to "come find your favourite colour".