Photography: David Rodríguez y Carlos Huecas;
c
ourtesy the architect
.
"Where you eat matters as much as what you eat…" Vino Veritas, a 100% Spanish Eco-Gastrobar in Oslo, Norway lives up to this quote by offering a slice of Spanish Andalusia to its patrons, both in terms of food/beverages it serves and the ambience it presents.
For Masquespacio, a Spanish creative consultancy firm that created the ambience and the branding, this refurbishment project was a challenging proposition: they were to bring about an interesting fusion of vivacious Spanish elements with the 'no-frills' elegance of Norwegian architecture. The entity they were to create was a whopping 3400 km away from the geography and the culinary culture it was to represent. Masquespacio has accomplished this with élan.
.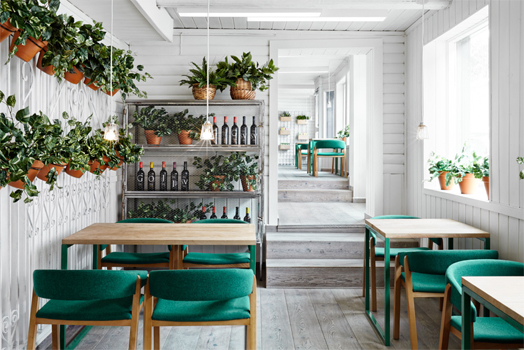 .
Masquespacio retained original walls, ceilings and distribution of the building that inherently had Norwegian features. They opted to paint these pine walls and ceilings in white, to offer more light to the interiors and to accentuate the solid oak floors.Outdoor space was used as much to endow diversity to the design as to augment the seating capacity from 50 to 70. Masquespacio populated this space with Oak tables and benches, adding an element of timelessness to the space.
Everything adorning this predominantly Norwegian eatery adds a Spanish touch to it. Right from the handcrafted lampshades, baskets, blinds, partitioning and clay tiles, to the neatly potted Lavenders and Olive branches that line the walls; each one strives to augment the overall Spanish experience the restaurant hopes to dole out.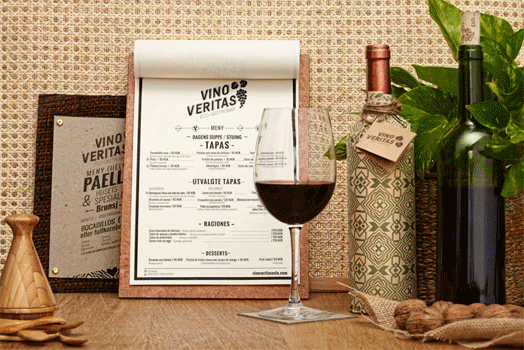 .
'Green' dominates the visual field, with its cheery presence on chairs, with cushions and table frames complementing it. Potted plants serve to add variety to this hue. Cushions with Arabic patterns (also designed by Masquespacio), ample use of recyclable and reusable packaging materials do justice to the 'eco' tag of the outlet.
Vino Veritas serves sustainable organic Wines and Spanish Tapas, originating from the Almería region of Andalusia, Spain. Serving them in environs that mimic their homeland could just be its way of paying tribute to its roots.