Photography: Julien Lanoo; courtesy C comme C
.
C comme C, the architecture and design bureau of Carole Chuffart,
architect, a
nd
Carole
Vermont, interior designer/ architect, with headquarters in Paris, design yet another atypical interior for the restaurant Jeanne B at the foot of Montmartre in Paris…
The extraordinary design of the restaurant is causing a stir! Transforming a former boutique into a

restaurant/food store, the designers have their inspiration from the graphic-geometric patterns of the 1930s.
.
The open space combines a snug and friendly atmosphere with contemporary minimalism, underscoring the special qualities of C comme C in the superlative handling of colours and materials.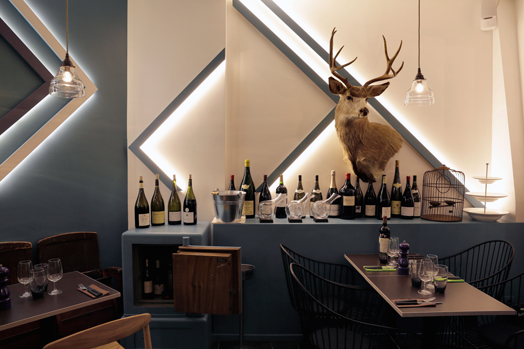 .
Blue and green tones dominate façade and walls, accentuated by furnishings in various textures and nuances of colour. A cunning lighting design enhances the impression of space and is subtly adapted to the different moods of daytime.
Sculptural interventions in the space occur as geometric décor, functioning as shelves and support elements and simultaneously drawing the eye onto the commodities on sale; otherwise there are details inspired by flora and fauna, including birch trunks as room dividers and – no irony intended – a stag trophy.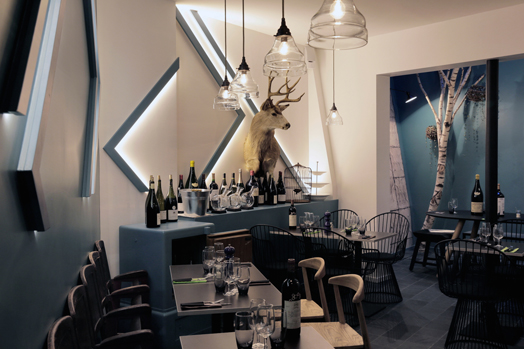 .
Whether large or small, the design studio firmly believes that beauty lies in detail. The designer duo transcend established visual and designing habits in their aspirations to open up a location to new horizons, to optimise its atmosphere, to give it its specific "sound" – a feat frequently achieved through the use of new materials, also objects that might have originated in industrial design as well as traditional handcrafted techniques.