IAnD Exclusive
World-renowned Milan-based architect, product and furniture designer, art director, brand Cappellini, also art director of Istituto Marangoni,
Giulio Cappellini on his recent visit to India, met with IAnD correspondent Zoya for an exclusive
tête
-
à-tête
. Here are some excerpts...
Known for his acumen in discovering new trends and young talents from across the globe, sexagenarian, Giulio Cappellini is a man with a design mission. His ever-refreshing goals, progressively-rooted trendsetting ideas and his approach towards innovative design, stand staunchly behind the sweeping success of Brand Cappellini being synonymous with avant-garde design, with the firm celebrated for launching a cross-section of the world's most sought-after designers.
Looking suave in blue suit and carrying a smart brown leather bag, the man spoke with passion about design, his students, the latest trends and the need to be traditional in being contemporary...
1.
What quality do you seek in the designer that tells you that he is the one to be encouraged above others?
I am always on the look out to discover young talent, and there are a number of qualities I look for. A sense of commitment towards the design, besides having design sensibilities and being passionate about his work, are a few musts! Sometimes I know a designer is good by looking at a sketch made by him or even by just talking to him. But most of the time, the decision comes from my stomach. After that, it's very important that the designer follows his idea like his baby. He must be very professional; he has to follow instructions but also has to make his ideas come alive in his own way. Also, it's important to have a frank and open relationship with me, the company and the client. And most importantly, he must be open to team work.
Designed by Giulio Masciocchi - student of
Product Design 2014 at
Istituto Marangoni. Designed in collaboration with Cappellini
2. Since global design influences have blurred boundaries of nationality, and cultural overtures prevail, what, in your opinion is the need of the hour in product and furniture design today?
Today, we have to look to the future but not kill our past. Every designer, product or furniture, should look for ideas in his or her own country. The idea is to defend and protect one's nationality and, at the same time, sell it worldwide. They must understand the power of heritage otherwise, if there are no cultural or national influences, every design will look just the same. So, designers should always be mixing traditional with contemporary.
3. How would you define innovation?
Innovation is very important. And innovation is not just about inventing shapes - anyone can create new shapes - but innovation even in selection, in using textiles and materials. A good designer is not just one, who sells popular and expensive products but one, who can manufacture good-quality products at cheap prices, so that more people can afford it. Again, it's very important to be contemporary. You cannot be contemporary without innovating and vice-versa. The key to innovation is research, research, research. Right ideas and the use of right technology and material, together help in innovation.
4. What, in your opinion, is the significance of a design award? Can it mark the success of a designer?
Of course, it encourages a person. Designers should try and make useful and youthful products. They should be able to make customers smile; it is with design that we can bring people closer to designers. A successful designer is not one, who creates a beautiful piece that is put on display in a museum or an art gallery, but one, who compels clients to take a design home. At the India Design 2015, I really liked a designer's work (winner of Park Elle Decor Student Contest) and I would like to put that product up at the Cappellini studio. The Pitolar Soki Chair by Ranjan Kumar Bordoloi is a traditional idea that has been thought of in a contemporary way.
5. Your views on nurturing design are progressive and laudable. Through your connect with Marangoni, how are you propagating these "absolute essentials" to manufacturers and design influencers, world over?
As I said earlier, the idea is not to create 'nice' objects but 'real' objects. And that's what I tell my students and others in the industry.
6. What, according to you, are going to be the product and furniture design trends for year 2015? Could you enumerate just 5 major influencers and tell us why you think they will make a mark?
a)

Technology and technological material, discovering natural material and using new textures. The right use of material and technology is very important in creating a new design.
b)

People want to live in warm atmospheres and not in homes that look like museums. Also, in today's time, as people are moving to live in the heart of the city, the size of the apartments are getting smaller. So, designers have to keep in mind the scale and stay contemporary.
c)

There will be more rounded shapes. If you've noticed, in the recent past, shapes have become rounder and soft rather than sharp and crude. Cars, phones, computers are all more rounded today.
d)

Designers will be seen creating not just best-selling items but long-selling products. As I say, a design should be such that a client looks at it and says, 'I can't live without it'.
7. What is your opinion about Indian product and furniture designers?
Indian designers are continuously growing. They have a long, fantastic and strong relationship with colours and material. They easily mix an old technique with a contemporary design. It's, in fact, a new era for designers in India at present. You will soon see a number of Indian designers becoming international stars.
8. Who are your favourite designers?
Jasper Morrison. He's an English product and furniture designer. I worked with him 28 years ago, and he's now a friend. Jasper is extremely creative and has great design sensibilities. In India, I like Sahil and Sarthak's work. I've worked with them once before.
9. What product of yours is your favourite?
It's difficult for a parent to choose his favourite child. But I really like the small Bong Side Tables. They look heavy, but are extremely lightweight.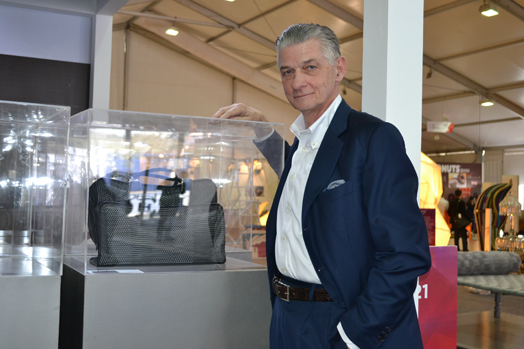 Cappellini with Blormond by Peng Qing - The inspiration for it comes from a recreation of a lunar eclipse - bag for young businessmen
10. Anything else you'd like to say?
Being a designer is fantastic. I get to show the world my ideas. And I don't need to be 100 per cent convinced of my ideas either. In fact, if am 100 per cent convinced, how will I innovate and create new designs?!