Photography: Steve Montpetit; courtesy Blouin Tardif Architecture-Environnement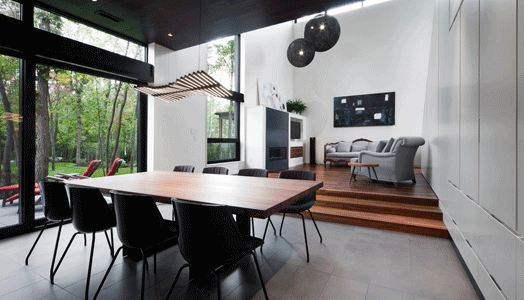 The Panorama House & the Veranda House
Two locations, similar topography, two distinct design treatments; result: two warm homes that define their inhabitants to the tee. IAnD talks to Blouin Tardif Architecture-Environnement to understand their design sensibilities…
Rising to the challenge of working on two different blueprints, and equally dissimilar requirements and sensibilities, the architects have designed homes that are warm and inviting, besides working in perfect harmony with the surroundings they are ensconced in.
The Panorama House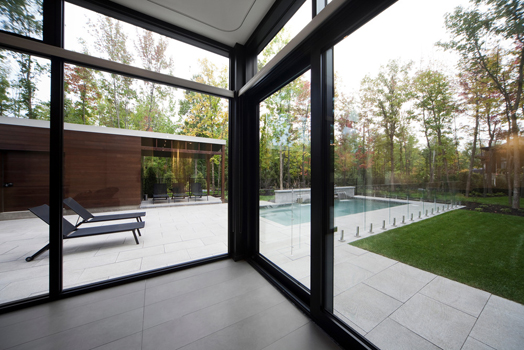 The Panorama House
At the edge of the forest, between a valley and a grassy marsh, in Sainte-Adèle, sits the
Panorama House - a refined interpretation of the traditional cottage, complete with pitched metal roof and dark-stained Eastern cedar shingles.
The Panorama House
Sitting on a typically rolling Laurentian site, the house is based on a simple rectangular volume, with its striking orange front-door leading inside to the bedrooms and the garage and beckoning one up to the public areas (dining room, kitchen, living room, and porch) via an in-the-face stairway.
Capped by a cathedral ceiling, the public areas are carefully thought out as a panoramic series running along the southeast side, ending with the porch. Inside the large common area, two volumes finished in eastern cedar divide the space: while the first holds a steel fireplace, the second houses functional spaces: kitchen, pantry, and washroom.
Diametrically opposite in design, lies the Veranda House - a single-family home located in a new forest development of Boucherville, in Canada. This home is designed to be intimate and discreet and is beautifully aided by the landscape design, where the site's trees serve as a privacy screen, opening only the entrance and certain mandatory services to the street side.
The Veranda House
The heart of the house is a series of spaces that open onto the yard: the kitchen, dining room and double-height living room. The first floor is flush with the ground floor, creating a strong indoor-outdoor dynamic. Large sliding doors allow the interior and exterior to intermingle, as does a continuous floor covering, while Cedar ceilings give the interior an outdoorsy feel.
The palette of exterior materials is simple and neutral: local clay brick and cedar. Transparency again plays a role in the exterior design, particularly with the glass barrier around the pool. On the second floor, the master bedroom features an en-suite bathroom with transparent partitions and a large covered deck resembling an aerie facing the woods and the water below.
With these recent accomplishments, the architects endorse their repertoire with a simple palette of material and colour but discerning design sensibilities as they carve out the two distinctive niches in residential architecture.