By Beverly Pereira
Photography: Courtesy the architects MVRDV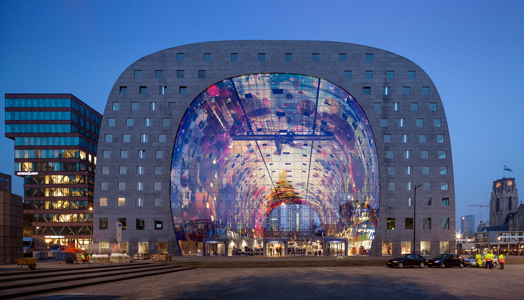 .
Market-housing hybrid Markthal reflects a new, sustainable urban typology in the Netherlands...
Markthal, by Rotterdam-based architecture and urban planning firm MVRDV, is a food market of many firsts for the Netherlands. The 95,000 sq. ft. structure not only houses restaurants and fresh food stalls on the ground and first floors, and a supermarket and 1,200 parking spaces on the first underground level, but also apartments along its roof.
.
.
As per Netherlands' new laws, traditional open-air meat and fish markets should be mandatorily covered to ensure hygiene. Responding to this challenge, MVRDV have considered evolving the typology of a market for the synergetic functioning of various activities like eating, grocery shopping, leisure, living and parking.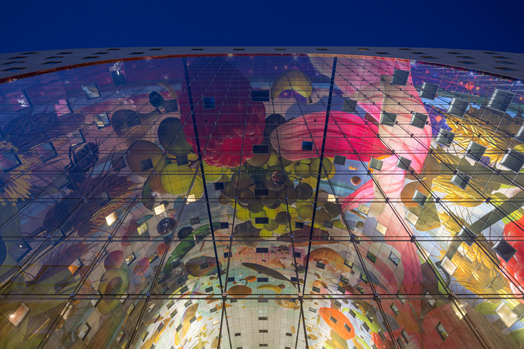 Markthal's façade, flooring and public spaces - wrapped in natural grey stone emphasise its colourful interiors, largely formed by a mural that clads the vaulted interior. Created by artists Arno Coenen and Iris Roskam, the 11,000 sq m artwork, Cornucopia, depicts images of market produce, flowers and insects that reference the work of 17th century Dutch still-life masters. The high-resolution image, rendered using Pixar software, is printed on perforated aluminium panels and attached to acoustic panels for noise control.
.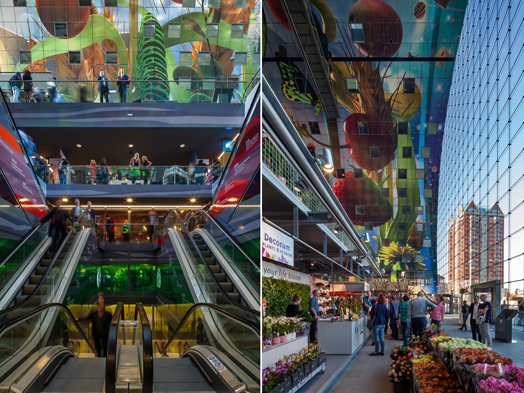 .
A 40-metre-high arch-shaped roof further accommodates 228 apartments - 102 rental and 126 freehold, including 24 penthouses - ranging from 80 sq. m to 300 sq m. each. The energy-efficient structure follows Dutch laws relating to the optimum use of daylight. Thus, all rooms requiring natural light face the river Maas or the Laurens Church. Kitchens, dining and storage rooms maintain a connection to the market using sound and smell-proof triple-glazed windows or glass floors. Diligently, the architects have provided for barriers against the cold and rain with what can be called Europe's largest single-glazed cable net façade crafted from glass panes attached to pre-stressed steel cables and comparable to a tennis racket.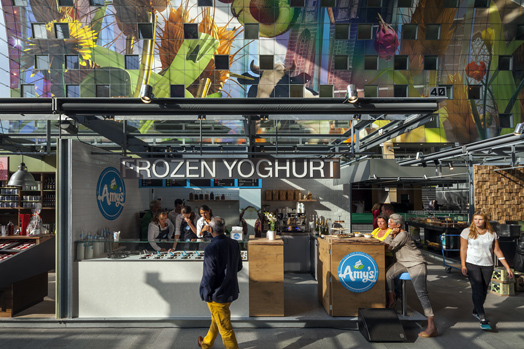 .
The structure that took five years to be readied uses an open-plan layout for transparency. An ambition on the part of the city council to turn the Laurens Quarter into a livelier place, Markthal, winner of the Mixed-Use Award 2014, effectively pushes the boundaries of conventional urban typology.