Photography: Stéphane Groleau; courtesy the architect
The refurbished Montmagny courthouse in Chaudière-Appalaches near Quebec City, adopts a concept of duality, with a sharp and striking architectural vocabulary - totally defined by light.
Designed by the consortium CCM2, Group A and Roy-Jacques architects in collaboration with LumiGroup, the sprawling 4360 sq. m. courthouse that is otherwise governed by rules and regulations, now surprises visitors with an architectural intensity that is wholly the outcome of a creative use of light.
Sharp straight lines, sometimes physical and sometimes imaginary, define the boundaries between public and private spaces, and between old and contemporary. Beginning at the entrance, the ceiling is lit by a fluorescent line guiding guests towards a grand staircase - an identifying symbol of great public institutions in classical architecture. The exterior of this magnificent staircase is made of dyed black ash wood, which contrasts with the pure white quartz steps and the varnished interior walls. The effect is suitably magnified by LED lighting, concealed within the upper part of the railing.
Ascending to the upper floor, which houses the waiting, meeting and hearing rooms, the line of light reappears in a suspended vertical zigzag, ending under the vast cathedral ceiling, like an unusual movement frozen in time, providing some lightness in this structured world.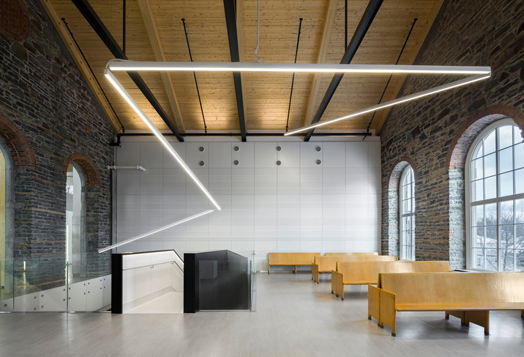 .
The lighting returns to its primary role in the concourse, where the ambiance returns to a world of order. The continuous linear lighting is suspended from the ceiling along the wide hallway, while recessed vertical light stripes confine one's journey and punctuate the space.
Lighting in the courtrooms, an area hierarchical in nature, plays a very important role in creating psychological barriers between the public space and that of the space reserved for the judiciary. This concept of creating boundaries using light is also applied at the court counter.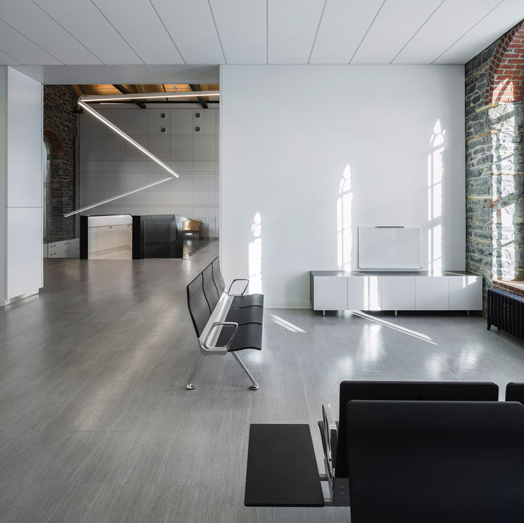 .
In addition to responding to very specific lighting needs, in terms of security, functionality and safety, the architects and LumiGroup's lighting team have managed to capture the creative potential of using light – both, artificial and optimizing use of natural light filtering into the courthouse - bringing a distinct contemporary energy to the Montmagny courthouse.