Photography: Courtesy Park Associati
.
The Milano Expo 2015 gets its ultimate epicurean treat – Priceless Milano - a travelling restaurant that will showcase speciality gastronomic delights atop various locales in Milan...
In 2011, architecture and design firm Park Associati designed and created 'The Cube' an itinerant restaurant-box for Electrolux that has since been touring various cities around the world, regaling gastronomes with its out-of-box nature and thematic.
.
Reprising their role for this MasterCard initiative, Park Associati once again design a travelling light-weight box that fulfils the functions of an out-of-box dining experience; "
an extremely flexible space that carefully adapts to the locations in which it is installed."
Stationed atop Palazzo Beltrami in Piazza della Scala, Milan, Priceless Milano as it is called, is designed like a sort of travelling gastronomic theatre, a 'Carro di Tespi' (travelling theatrical company ) at which leading chefs from all over the world are invited to show off their skills on a rotational basis during cooking shows held in front of guests.
One single table can accommodate 24 diners engaged in a unique experience;
alternatively, 66 people standing for special events. S
liding walls separate the kitchen area from the dining area. The table lifts up to the ceiling and the space can be completely opened up. Enclosed in an all-glass (fixed and sliding water-tight and heat-insulated units) facade, the dining is flanked by two open terraces.
150 sq.m. in area, the portable pavilion
is a modular structure consisting of fully furnished eight blocks equipped with all the latest electrical appliances that can be assembled on site. The restaurant space is furnished with just one big 8 metre long table with a honeycomb-shaped aluminium structure and moulded, vitrified aluminium surface to create a sort of custom-designed technological napkin; flatteringly complemented by a sense of warmth and welcome reflected in the floor tiles' woody look. Careful attention is paid to the premises' acoustics, where the ceiling is completely micro-perforated and the vertical parts of the lateral stanchions are lined with sound-absorbing fabric panels.
The kitchen and dining areas are harmonised with a sense of balance and continuity; with the kitchen divided into the food preparation space and the cooking facility, the latter in full view of the diners.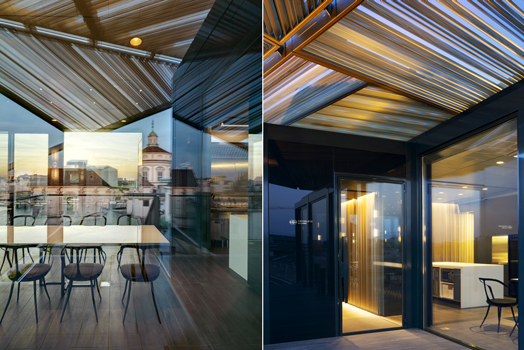 .
Colour and material palettes are kept to a minimum with a Corian steel surface, press-formed, anodised aluminium in bronze/gold shades, opaque lacquered laminated panels and the like.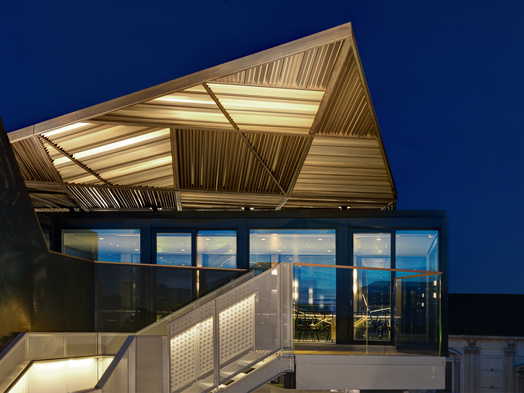 .
The highlight of the structure is its 'sail-like' aluminium skin that rests on top of the restaurant units like a wing and is held in position in the middle by 8 "invisible" supports. This "sail" is designed to protect the structure against solar radiation; also ensuring conditions on the terrace below are comfortable: its broken-wing shape creating an overall sense of lightness and suspension.
Priceless Milano is open every day, including weekends and holidays, from 6th May to the end of October. The restaurant can only be booked online through the website http://pricelessdining.priceless.com/, where all the information about the location and events is available.