Photography: Masao Nishikawa; courtesy
APOLLO Architects & Associates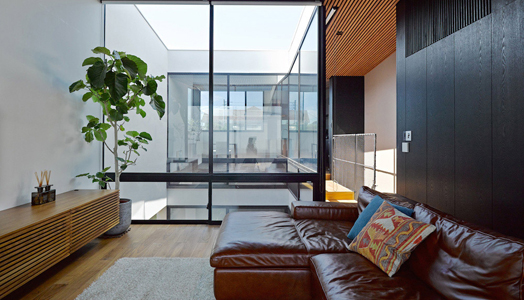 .
Referencing the flow and ebb of a wave, Apollo Architects and Associates design a multi-level house in Kanagawa, Japan in sync with the keen surfer-homeowner's delight!
The U-shaped home by the beach circumscribes a courtyard that is shaded under the second floor overhang, lending the appearance of a floating façade.
Anchoring the courtyard as a point of functional and aesthetic connect with the scenic surrounds, a bathroom is positioned close to it to convenience members coming in from the beach. The children's room, which is connected to a study room, is also situated next to the courtyard so that they can comfortably study there while enjoying the view of the family's memorial tree and the natural surroundings at the same time.
Split-levels meet the eye as one enters the home realizing that one would need to either look up or look down at another in any other area of the home and generally across the centrally placed courtyard. For example, the living and dining rooms are connected via a gently inclined ramp; the open-counter style kitchen connects with the dining room via a wide corner window; the second floor is an open space that looks down into the courtyard…
Seamlessness is played upon by providing the large roof balcony with a fully open-able window that nullifies the indoor-outdoor transition, opening up the timber structure with its exposed concrete finish to the surrounding vistas.
The material palette is kept minimal with sleek black edging framing almost every opening. Floor-to-ceiling glass opens up the home; while walnut flooring and a repetitive pattern of pinewood strips on the ceiling lends a unique rhythmic accent that highlights the simplicity of the space.