Photography:Courtesy RDAI
La Salle à Manger -
neo-brasserie chic; Black -n-white chequered dance floor by Philippe Starck has been retained
©Guillaume_Grasset
With one hundred and thirty years of vibrant history, Les Bains, Paris stands loftly, looking into the morrow, whilst celebrating yesterday...
Turning back the pages of time, the historical building with its Haussmannian facade and antique Bacchus sculpture was perhaps the first cafe - Café Guerbois, a veritable mecca for the capital's artists and intellectuals during the early 1880s. In 1885, Les Bains Guerbois fast became the most renowned and prestigious private bathhouse in Paris, attracting writers and artists such as Zola and Manet, alongside Bohemians, philosophers and the glitterati of the Belle Époque.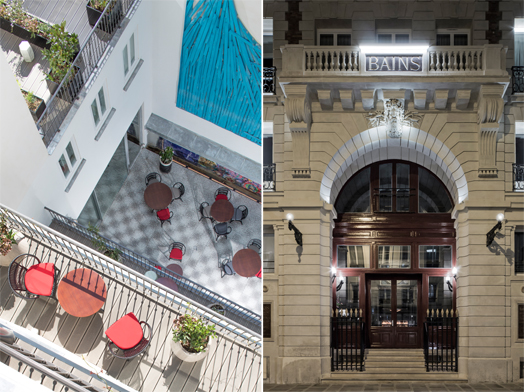 Hausmannian masterpiece facade and balconies

©Guillaume_Grasset
One hundred years later, in 1978, two friends rented the venue, brought in the young Philippe Starck to help decorate, and Les Bains Douches was born. It became an institution, a concert hall, disco, restaurant, fashion temple, and a rallying point for artists such as Brian Ferry, Simple Minds, Johnny Depp, Karl Lagerfeld, Sean Penn, and many others.
Stalactite pillars borrow inspiration from natural shapes formed by water, with bulbous,
droplet-like shapes hanging below the undulating red ceiling domes and rotundas ©Paul_Raeside
Red lacquered columns complemented by mahogany tables ©Guillaume_Grasset
Respecting its roots, yet completely transformed, Les Bains is today an international hotspot Parisian club – hybrid-chic, transcultural, cult club, legendary bar, gastronomical destination, and so much more. It provides a new concept of living and a meeting point for trendsetters, influencers and creatives, who live, eat, sleep and create under this roof.
15-m high

private dining area Le Club

©Guillaume_Grasset
It is the collaborative effort of architects and designers Vincent Bastie (rethinking the space in a provocative and innovative manner), Tristan Auer (

selection of materials and his attention to detail and finishes )

and Denis Montel (aesthetics of the enigmatic ground floor restaurant) from RDAI shaped by Jean- Pierre Marois' (film-maker and owner) overarching vision.
Le Club Le Salon Chinois ©Guillaume_Grasset
Private Hammam ©Guillaume_Grasset
L

ess in the spirit of a traditional hotel, and more akin to a residence, Les Bains' 39 spacious rooms and suites are each stamped with their own unique personality. Custom-crafted furniture sits amongst white marble, precious woods, Gainsbourienne carpets and replica sofas from Andy Warhol's Factory. Rock 'n' roll whimsy permeates the rooms: from Joy Division album covers, playfully sexy 'do not disturb' signs, to beauty boxes of little luxuries, the whole is a package that transcends style. Each of the five junior and two suites come equipped with private hammams.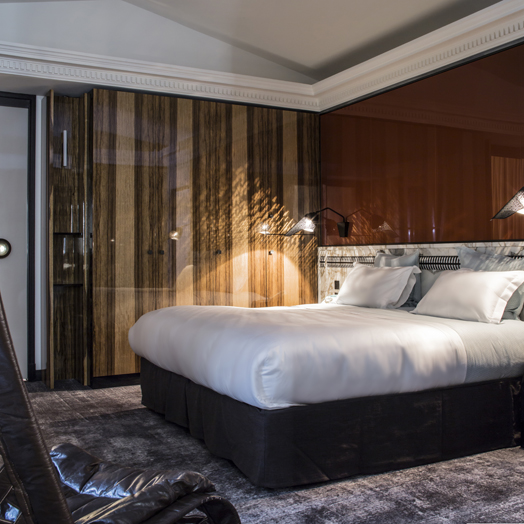 Le Suite
Ranging from 23-50 sq. m, six room categories boast queen and king size beds, in-room climate control, and state-of-the art tech accoutrements. A sleek and sophisticated colour palette of grey, white and black unites the rooms, while the hotel's artistic essence is reflected by a constantly rotating curation of art. Each of its one-of-kind public and private quarters is an extension of the legendary location, some of its areas never been previously open to the public. The re-invention incorporates some restoration and conservation procedures and some regenerated spaces that exude the inimitable Parisian charm.