Photography:
Masao Nishikawa; c
ourtesy the architect
Ar. Satoshi Kurosaki of Apollo Architects & Associates designs 'wrap' house – a ground-plus-one home that beautifully juxtaposes an outward-looking program with an engaging interior…
The structure intrigues you spot on! With a tantalizing wooden structure peering through an orderly façade comprising exposed concrete finish wall with cedar form panel pattern and galvanized steel panel, this home on a hilltop in

Shikoku

, Japan, is designed to be open and airy; at the same time, is very private – with the exterior unrelenting in its stoic cover of what's inside!
Home to a graphic designer and his family, the minimally orchestrated interiors are dominated by a feeling of transparency that ensues with the skeletal staircase – artistic and sculptural – and the open upper floor that makes you wonder whether you are actually at home or basking in a luxurious pavilion.
Entering the lofty-looking edifice via its wooden gate, you are greeted with an entrance court, illuminated by a grating above and immediately come up close with the sculptural staircase inviting you over with a glimpse of a structural wooden wrap.
Going up, you are gradually enveloped by a wrap of repetitive triangular structures composed of SPF timber and laminated veneer lumber rising up from the floor to continuously form a column-free, shell-like space by integrating the wall, the ceiling and the eaves in three-stepped couplings. One side of the floor is entirely open to the elements through four large wooden sliding doors; the openness enhanced by the tempered glass banister that appears almost non-existent.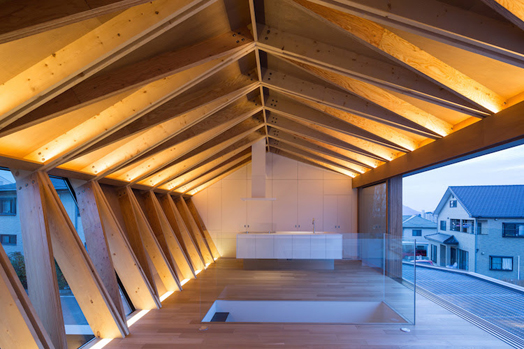 .
Ar. Satoshi Kurosaki plays with the eye now by introducing the colour white in the living areas, kitchen and the built-in furniture at the gable end. The ambience is augmented,

when the dynamic structural body is illuminated by indirect light from strategic built-in light fixtures, lending the space a completely mesmerizing aura.
Complementing the open upper floor, all areas on the ground floor too open into an inner courtyard. Adding a signature element – not that the captivating structure needs one – is a
Stewartia monadelpha
tree planted in the outer courtyard, accentuating the front facade.