Compiled by Team IAnD
Photography: Courtesy Mecanoo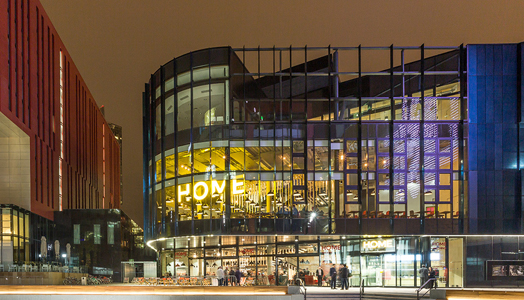 .
Manchester's HOME centre for international contemporary art, theatre and film is designed as a holistic experience furthering cultural endeavours.
As the base for the new organisation formed by the merger of Cornerhouse and The Library Theatre Company, HOME is designed to allow for the commissioning, production and presentation of critically engaged and technically complex artistic projects, as well as the hosting of large scale cultural events. Strategically located at First Street in the city centre, the characteristic triangular building with its well-rounded facade creates a strong visual identity quite apt for the function it is dedicated to.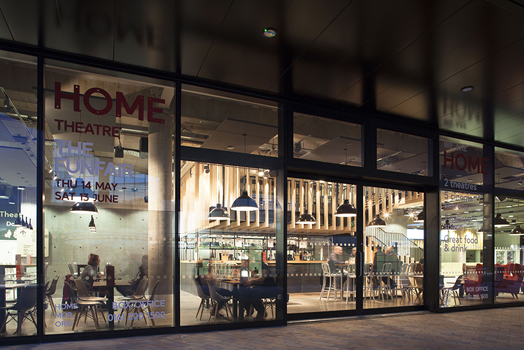 .
The glazed facade adorned with irregularly spaced fins opens up, where public areas are located, giving the building a varied and dynamic appearance. Depending on the weather, the colour of its iridescent facade changes from black to blue to green. A terrace is located beneath the large overhang, connecting the café bar to the public square that can be used for outdoor cultural events. Inside, the triangular floor plan results in a number of unique rooms inhabited within the three corners, including the gallery, the restaurant, and one of the five cinemas, which features a curved screen.
The interior concept and layout is that of an urban living room, instilling a sense of warmth and intimacy. The rugged concrete floors and walls contrast beautifully with the warm oak of the bars and the use of raw honest materials like wood, concrete, steel and glass underline HOME's identity and mission to provide cutting-edge arts and culture.
.
Its 2 theatre spaces (500 and 150 seats), 5 cinema screens (250, 150, 60, 40 and 40 seats), a restaurant, café, roof terrace, gallery space, 3 foyers, bookshop, sponsor's room, offices, rehearsal room, work places, educational spaces, dressing rooms, expedition rooms and a public square are all connected via a centrally highlighted staircase that constitutes the main circulation route through the building.
On the technical front, the main theatre is designed in a way that spectators are never more than 15 metres from the stage. Besides, five top-of-the-range cinemas are set up in a range of sizes allowing great flexibility in programming. The four metre-high flexible gallery space on the ground floor is designed to accommodate the most ambitious of contemporary visual art installations.Outstanding sound insulation prevents the railway noises from disturbing the operating theatres and cinemas and allows them to be used simultaneously.