Photography: Koichi Torimura; courtesy the architect
.
Makoto Yamaguchi Design infuses the harmonious fusion of contemporary elements, classical European style architecture, and the local nature of the Thai-like town, Pakse, in a stately home in Laos…
The very fact that a large impressive classical European façade was rooted in the earthy Pakse landscape was a daunting idea that architect firm, Makoto Yamaguchi Design had to come to terms with. Added to this, was the client's desire to have a chic contemporary interior, in stark contrast to the classical exterior, which clearly mandated 'no change'. A tall order that architect
Makoto Yamaguchi and his team have delivered with aplomb!
.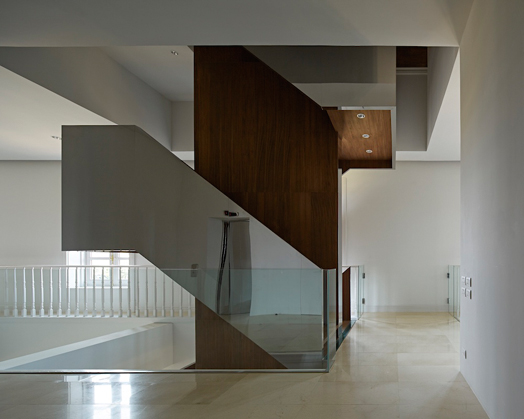 .
.
The home appears like a poetry written in stone and wood. Augmenting the majestic exterior, yet standing loftily on its own, the interior design exercise drives a home that is warm as a cocoon and proud as a strutting peacock. Exuding an aura of dignity and simultaneously inviting in its make-up, the interior architecture comes alive through its stone and wood clad walls, floors and ceilings.
Ascertaining the harmony quotient, the architects first painted the exterior in a shade of ochre that eased the building into the surrounding Pakse vista, sitting comfortably as site specific architecture. This interesting revelation then laid out the blueprint for the interiors, starting with a site-specific custom-designed Swarovski objet d'art chandelier that mimics the several waterfalls native to Pakse.
Marble floors towards the outer periphery and warm gorgeous teak floors and walls towards the centre of the home are pitied against naturally snapped stone, granite and mosaic tile, whilst polished stainless steel and translucent glass flirt with the expansive spaces; the latter steel panels with mirror finish or glass panels being materials

never used in the traditional, rustic wooden buildings of the local area.
The already spacious interiors of the approx. 1300 sq. m. home are accentuated with floor-to-ceiling wraps of wood, stone and at places glass, with recessed mood lighting playing on the ambience and on the senses. With emphasis on the sheer volume, equalized by abundant natural light streaming in from the large, decorative arched windows, the robust architectural expression is testimony to simple yet regal living.