Photography: wouter van der sar
for Concrete; courtesy Concrete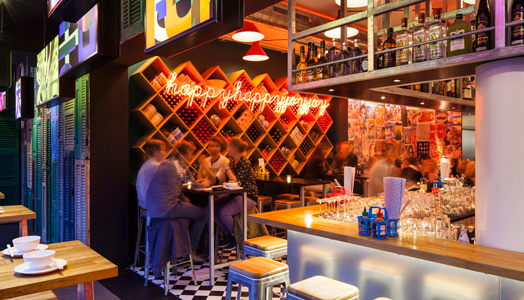 .
Concrete's street-food-themed restaurant - happyhappyjoyjoy, not only transports its diners to the frenzied food-focussed streets of Asia; but sensitizes them to commonplace elements with its eclectic and charismatic interiors…
Happyhappyjoyjoy comes alive in the streets of Amsterdam – a vivacious alluring backdrop of rich colours, textures, prints and lights that beckons passersby with an engaging ambience. Built on the idea of imparting the vibrancy of street-food revelry in a contemporary ambience, the interior reinvents the post modern pastiche; and is sectioned into five individualistic spaces, each capturing the organized chaos that characterizes Asian streets and alleys.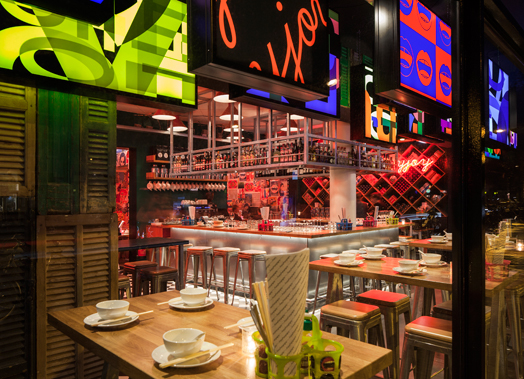 .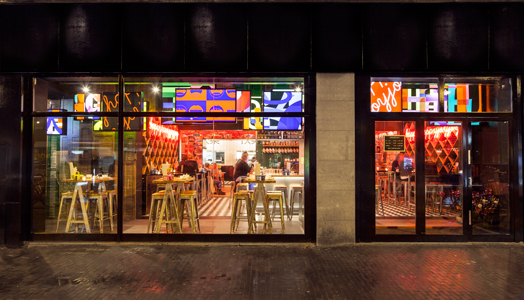 .
Grabbing eyeballs and beckoning one inside, is the happyhappyjoyjoy logo burning bright in 18 richly coloured light boxes that augment the alley feel between two façade walls – outer glass wall and the inner one of custom-designed louvered doors, leading on to the main restaurant within via an open, arched union.
Use of galvanized steel for the bar, cantilevered counter-tops, over-the-counter-displays and services, high bar stools, open-grid shelving angled at 45 degrees, Oak Park style furnishings, hawker-stalls typology, black chalkboard paint with step-by-step recipe drawings, open live kitchen, steel-encased glass doors, huge prop-lights and pendent bulb lights, reminiscent of garlands of random streetlights as seen in pop-up street food stalls make for a effervescent ambience.
Enclosed in glass on the front and back entrances, both alluding to alleyways, the heart of restaurant is a pulsating place divided into two, yet connected via large alcoves – its walls completely covered in a pastiche of posters and pamphlets (both, sourced and especially commissioned) and its ceiling made of red backlit paper umbrellas! Flanked by the bar on one side and private dining rooms on the other, the distinctiveness of the spaces is unified by the largely black-n-white chequered footprint with parts of it in wood and grey cement; another streetside metaphor.
Concrete's happyhappyjoyjoy is certainly a destination that ensures a joyous experience and puts a 'hey-that's-great' smile on many a face. As the architects excel at pooling together disparate elements to cull an eclectically harmonious ambience, of special note are the artworks – the walls filled with collages of poster art and the artwork of 99 melamine sushi plates in six different colours that anoints the walls of the private diner.
With a finger on the pulse of the hoi-polloi, the project is comprehensively designed with attention to every detail from the architecture and design to logo, menu and stationary design, tableware and table settings, and the like.