Photography by UArchitects
UArchitects
- Eindhoven
' design of the new sports centre Zaanstad-Zuid in the Netherlands epitomizes the epithet – Form follows Function!
Standing tall in the busy Poelenburg neighbourhood, the Zaanstad-Zuid building is a studied approach in interactive architecture. Conceptualised for alternate use by day and by night, its architectural vocabulary follows diverse functions that open up the building to its surroundings.
Vertical polycarbonate panels constitute the façade - closed in some places, with perforated openings in other places, and designed to act as a semi-transparent double skin in yet others - that permits an interaction between the sportsmen and the outside world in a subtle manner. The entire concept of the façade is based on the day's itinerary. The diverse use of this facility divides it into three areas; in daylight, the students use the day entrance, which opens directly into the playground; while the cafeteria, conference room and the spectator stands that can hold up to 300 people are open to sports associations and neighbourhood groups in the evenings and on weekends.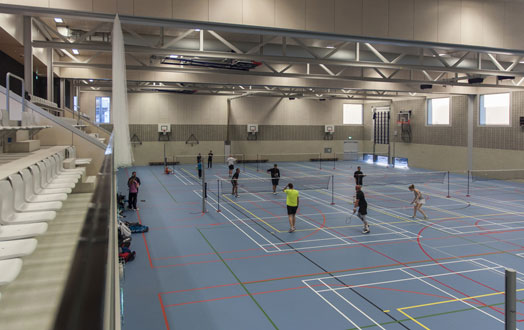 .
.
In a strategic approach by the architects
Emile van Vugt and Misak Terzibasiyan
, the windows are positioned at various heights to serve specific purposes: The high windows just below the ceiling allow daylight to filter in, while simultaneously ensuring that the sportsmen inside are not blinded by backlight as they score the winning goal; the low windows provide a glimpse to the outside world while the gym is in use. The diagonal positioning of the windows ensures ample daylight brightening up the sports hall, end-to-end.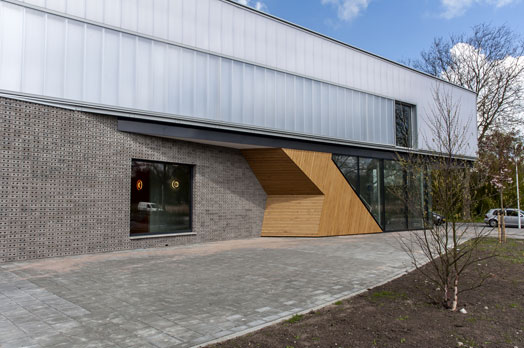 .
Veering away from the 'enclosed box' typology, entry and exit routes are chartered in accordance with the changing functions and amenities being catered for. The change in use between day and evening, which constitutes the basis of the concept, manifests physically into the built form with the upper surfaces made of polycarbonate, revealing the sports activities and the neighbourhood meetings in the evenings; while the lower surfaces - grey-coloured brick walls - conceal the dressing rooms and the areas for school that are used during the day.
.
The public areas viz., hallways, cafeteria etc are designed to energise. Floor patterns and artwork inspire the sportsmen to move, effectively starting the warm-up sessions before they get to the dressing rooms.
The Zaanstad-Zuid sport centre brings back a zest for all sports enthusiasts, a much needed balance in contemporary life.