Compiled by Pari Syal
Photography: Derek Swalwell; Jaume Albert Marti; courtesy the architects
There is something lyrical about the form of this home that touches a chord of mystique in the visitor.
Zen-inspired, featuring strong architectural lines and shapes, the home belies a sophisticated living environment that maximises views of nature. Located in Singapore and designed by Architect ONG & ONG Pte. Ltd., the approx. 900 sq. ft. home is conceptualised as two main volumes with the space in between open to sky and beautified with a reflective pool, making it the arresting highlight feature of the home.
.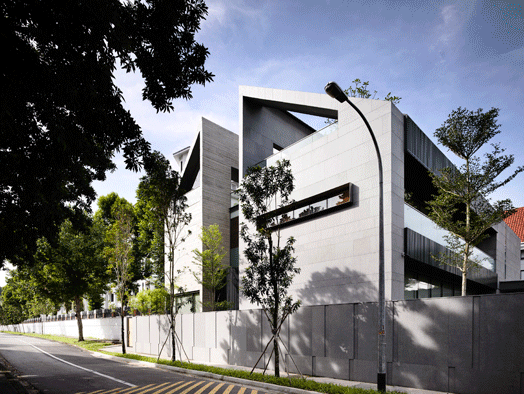 .
Visually identical, the two volumes or blocks are differentiated externally by their textures – the front block clad in granite houses the formal living and dining areas, whilst the kitchen and service functions are relegated to the rear block clad in fair-faced concrete. This differentiating texture creates a material symphony that come alive with the reflective pool in between their 3m wide void, juxtaposed as it is with the three-storey-high volume that makes for a very striking visual scale.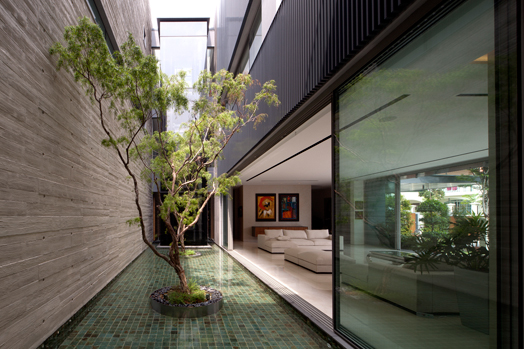 .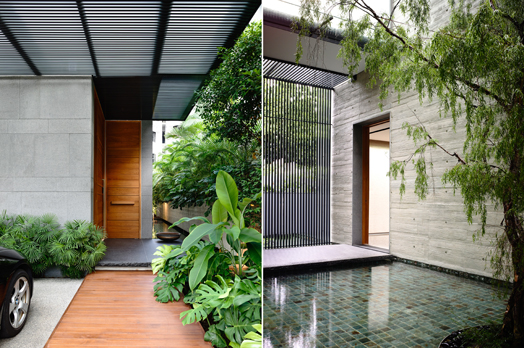 .
It offers qualities of light and spaciousness as opposed to the solid volumes, which are set against the floor. Trees in the reflective pool add softness to contrast with the solid volumes. This void ensures cross-ventilation in all the spaces because it pulls the air up through it, so hot air goes up and cool air goes down into the various rooms, making internal circulation efficient.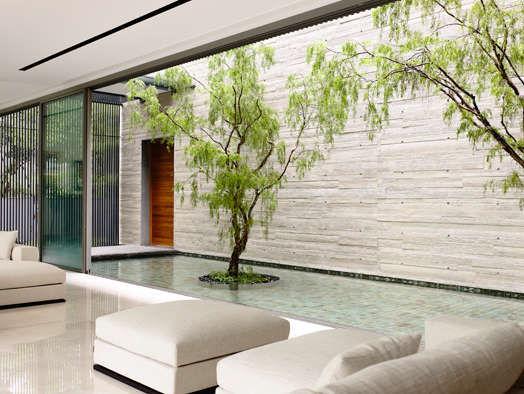 .
Full-height glass panel doors line the two lengths of the front block and can be pulled back, allowing all the spaces on the ground floor to form a cohesive whole, seamlessly flowing into each other, maximising views of the garden and pools.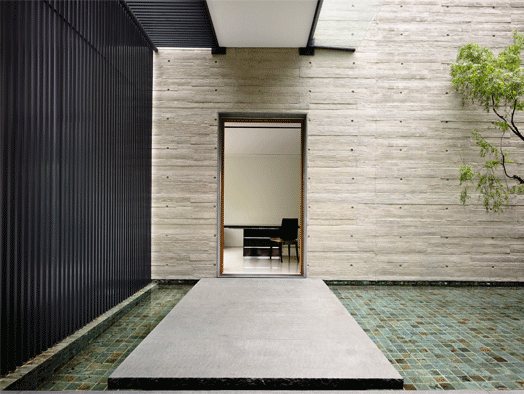 .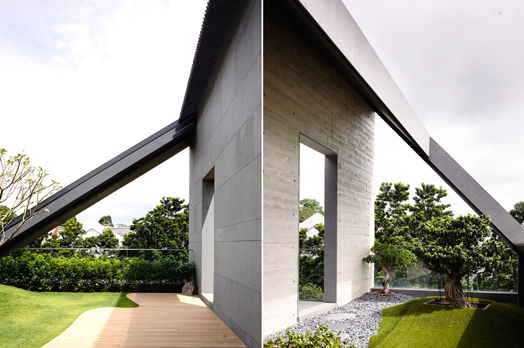 .
The private areas of the home are housed on the floor above and follow a zen-like ambience, allowing the architecture to hold court. Carrying the structural vocabulary forward, adjoining terraces and open decks lined in artificial grass make the rooftop an interesting space, where lines between indoor and outdoor space are once again blurred.