Photography: Courtesy v2com
Abu Dhabi's most recently opened Al Aziz Moque uses
light transmitting concrete to effect a unique glowing façade inscribed with 99 names of God in accordance with the holy Koran…
Among the many new mosques that dot the skyline of Abu Dhabi, 515 sq. m. of Al Aziz's façade stands apart – absolutely unique and distinguished.
A total of 207 elements make up the façade. Approx. 1800 x 1400 x 40 mm, each element is individualistic in all respects as it comprises a different shape and construction, making the whole concept a unique one worldwide. Especially during evenings, when the walls are backlit, the glowing calligraphy becomes a highlight of Abu Dhabi, the capital of the United Arab Emirates.
Conceptualized and designed by Ar.Yasser Fouad of the UAE-based architecture and engineering firm, APG Architecture and Planning Group, with backlit calligraphy created in conjunction with Mr. Wolfgang von Zoubek of ALD, Germany and Mr. Marijan Barlé of LUCEM, Germany, every façade panel is unique, where projecting letters become a fascinating lighting show at night.
Each panel is individually cast in a customized

mould with diligent attention to exact dimensional requirements and tolerances to ensure accuracy in the execution of work especially at corners or areas with openings. The calligraphy on each of the panels protrudes in a thickness of 30 mm and creates stunning chiaroscuro elements in the seemingly hand-crafted natural stone finish; its surface treated to ensure resistance to fluctuating weather conditions, extreme temperatures and to erosion caused by sandstorms.
The natural stone aesthetic is a perfect foil to other natural stones used in the monument and the surroundings, almost appearing to rise from the sand below and appearing to change colour with the passing hours of the day. At the same time, the architecture is straight and modern, new age design, based on squares and triangles instead of circles and rounded forms of traditional mosque design.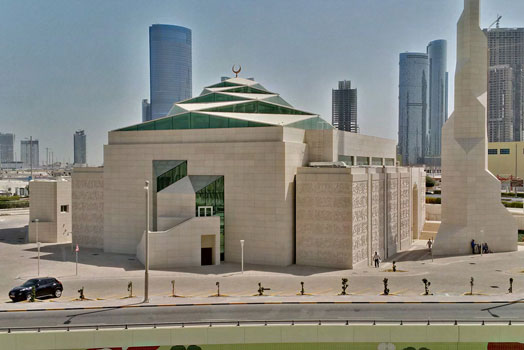 .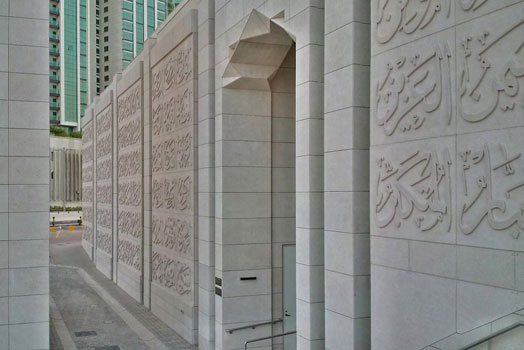 .
Since lighting is the most outstanding element of this design, the architect uses water proof light technology with the backside of the curtained ventilated LUCEM light-transmitting concrete façade provided with a lighting modules type OSRAM 'Back-LED plus' with a protection class of IP 66,. This ensures that any lighting module can be replaced or maintained without actually having to remove any calligraphy containing panel. Incidentally, such a sophisticated technique also ensures energy efficient electricity consumption compared to other conventional lighting systems.