Compiled by Udita Chaturvedi
Photography: Zooey Braun; courtesy Ippolito Fleitz group
Elegant accentuation and high-quality material coupled with sustainable construction help this 10-storey edifice in Frankfurt win the LEED Gold certification!
Away from the conventional style of tall buildings in the German city is Solowest with its high quality but subtle facade from the outside and a modern-day design approach inside.
The 10-storey building for official space built in Frankfurt in 1990 has been revitalized, thanks to Phoenix Real Estate; where designers Ippolito Fleitz Group have created an intriguing and dynamic interior in the access and supply cores.
The impressive lobby serves as a shared business space for all the different tenants. The double height of the room is highlighted by a wall composed of vertical lamellae that hang like shards of glass from the ceiling. Staggered at irregular intervals, the vertical shards of the wall give a dynamic progression to the room, while the concealed interstitial absorption fields ensure unexpectedly warm acoustics. Meanwhile, the ceiling is formed by a suspended, polygonal, folded element of glossy, polished stainless steel, which further elevates the height of the room through the reflection in the steel.
Placed between the lamellae is the light source that illuminates the wall without being visible to the visitors, making the walls "glow magically".
Three abstract but sculptural objects — a letterbox located in front of the building, an upholstered seating element and a reception desk in black and white solid surfaces - in the entrance area enhance the aesthetics of the ceiling, while the foyer provides an unrestricted view of the lifts, around which are located the access and supply cores. The outer wall of the lift is

panelled

with walnut veneer lamellar, giving the place the desired sophistication and warmth.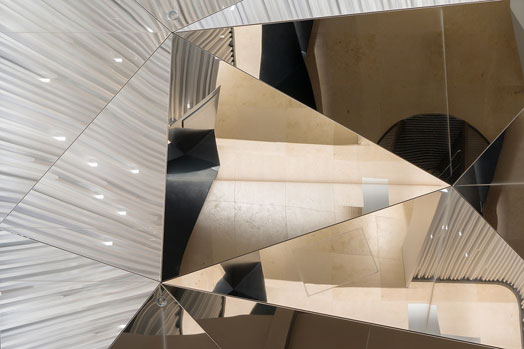 .
"The overlap of the individual lamellae renders the doors to adjacent areas invisible, thus creating the impression of a homogenous, wooden corpus. A circumferential light strip further emphasizes its monolithic form. Here wooden pilaster strips run down the walls like veins, making the walls appear as cross-sections cut through the room," explains the architect.
With the revitalisation of this rather outmoded Frankfurt office block, Phoenix is looking to appeal to a new group of clients. The modern-day foyer, a fresh design and the continuous acoustic theme successfully make the building unique.