Photography: Thijs Wolzak; courtesy the architects
.
Exhibition architects, K
ossmann.dejong in association with Tropenmuseum Junior use 'interaction' as key in the design of 'experience Morocco' exhibition catering to the idiosyncrasies of a wide
audience...
'Ziezo Marokko' is a
theatrically laid out exhibition space
that literally makes you board a flight, travelling to destination Morocco, where you are experientially taken through the sights, sounds and smells of a Moroccan Medina.
.
Flexi-design solutions and imaginative concepts give rise to spaces that come alive with interesting tidbits from Moroccan lifestyle, addressing the viewer as an integral participant, transporting him right in the middle of Moroccan streets and alleys, squares and vistas by means of optical illusions and spatial play. The deliberate use of white in the city structure is justified by the mosaic patterns and colourful landscapes of Moroccan cities.
.
.
This exhibition, which opened on October 17, 2015 in Amsterdam (NL) follows Moroccan culture, lifestyle and provides for further exploration by those who visit it. A narrative is generated by creating a distinct circulation pattern leading the audience from one guest room to another as their senses are tickled by the tour guides and their surprises.
.
.
Adding authenticity to the whole experience are real objects from the museum's collection and a select collection from Morocco, which include wooden Moroccan doors and mosaic tiles, making this an extremely realistic experience.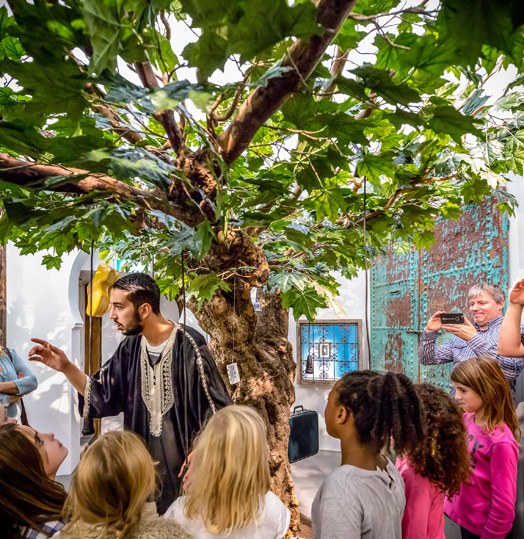 .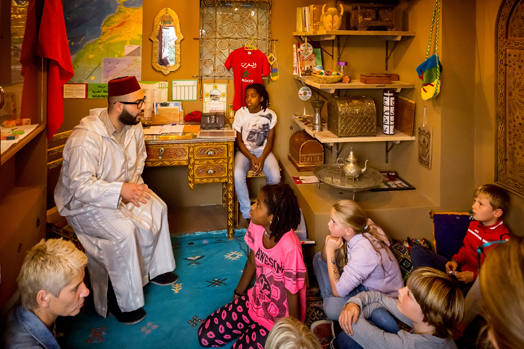 .
Like a metaphor for life itself, full of surprises and unexpected detours, colourful worlds are hidden behind each door, which contrast with the serene, white city structure. All senses are stimulated, and children can for instance cook in a fragrant Moroccan kitchen, make mosaic patterns in a riad, or go on a wild ride that takes them through Moroccan landscapes and cities. The exhibition promises to leave an indelible Moroccan
imprint on the minds of the audience.