Renderings & Infographics: Courtesy Spark
Spark Architects' striking approach to 'Retirement Housing' for the next generation wins the best future-experimental project at the 2015 World Architecture Festival, held in Singapore earlier this year.
The project named 'Homefarm' is an initiative towards a healthier, respectable and congenial lifestyle for the rapidly ageing population of Singapore and other Asian nations. It has been presented and discussed at multiple platforms for its inventive design and viable solution to the growing trend of nuclear and single-living arrangements in this day and age.
.
.
The solution envisions an improved living environment by embracing the possibility of generating employment for people after retirement. Apartments with varying house types are designed with a proposal of 'vertical aquaponic farming' along the corridors facing the central plaza, a technique that has been successfully used in Singapore by rooftop farming initiative ComCrop. The roof tops of upper storeys and community buildings however, adapt the traditional system of soil based farming.
Homefarm as a proposal, suggests a self-sustaining community that will also contribute to the production of home-grown food in cities, an issue that concerns many nations in South East Asia, for instance in Singapore that is known to import 90% of its food.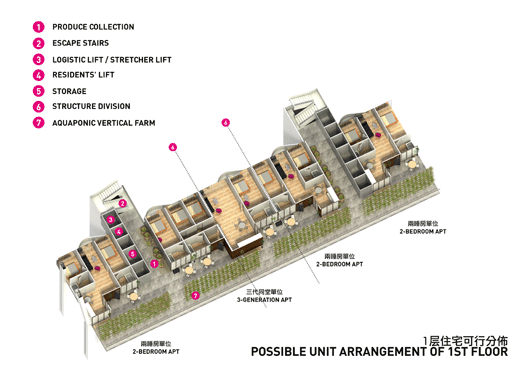 .
.
The residential volume is stacked at successive levels in a terraced arrangement, where the internal building façade resembles a vertical garden with aquaponic farming. Communal activities including the central plaza, senior's mall, produce market, social centre, library and healthcare are fragmented around the site at dual levels, the roofs of which are developed as soil based, linear planting beds.
.
.
The apartments face the vertical garden on one side that opens up to the central space. With the assistance of a professional team, the residents are free to involve themselves in activities that may enhance the viability and production of home-grown vegetables and fruits. Besides serving as financial aid, their involvement in numerous activities including farming, harvesting, cleaning, packaging etc. will promote and facilitate communal connect, active mental and physical lifestyle and most importantly, provide for a secure, safe and well defined way of life.