Compiled by TeamIAnD
Photography: Adrien Williams; courtesy V2com
.
Award-winning Montreal-based designer Jean de Lessard dictates deconstructivism to straight line, polyhedral shape and contrasting colour to evolve a dynamic workplace for an event company in Canada...
What form should PixMob, a world renowned event specialist take that would suggest its working philosophy of collective movement and an offbeat temperament?
Translating this dictum into spatial configuration, the designer along with MU Architecture has given birth to an emblematic protean space in which raw and dynamic shapes enhance the cutting edge digital technology research and creativity, which is the client's DNA.
.
One enters to discover the first source of inspiration: that of the primary energy, the hypnotic rave-like movement, through a vibrant yellow and black staging. Jean de Lessard explains: "We wanted to recreate the chaotic and nocturnal atmosphere of a show that would be making the space 'vibrate' as if it were modulated by the now, and for the now!"
.
The design addresses the designers, technicians and programmers' requirements, transmuting the workspace into a unique platform of sound and light performance.
.
Special attention is paid to conserving traces of the labouring past of the former textile factory of the region - one would almost think that this 'spatial recycling' is reminiscent of anti-design - such as poorly hewn wood and peeling white paint. Thanks to the culture of the ephemeral-oriented design, the high ceiling is revived. The recent wall partitions made of pine boards keep the original dynamics, whilst the once preserved former openings devise a more desirable path to the chaotic nature of a creative workshop than that of a conventional working place.
.
Free movement is another key aspect. Knowing that vibrations affect the structure of things and the mind, the idea of sound propagation and of connectivity emerges from a succession of open spaces, where 45 workstations and a café are placed. With priority given to a collective, closed offices are limited to ten.
.
Two out of four meeting rooms are located in a towering second polyhedral monolith, a large conference room and adjoining the warehouse is the third and last monolith that serves as a black box for the digital lighting programs experimentation. In addition to space optimization, the two mezzanines help keep visual contact.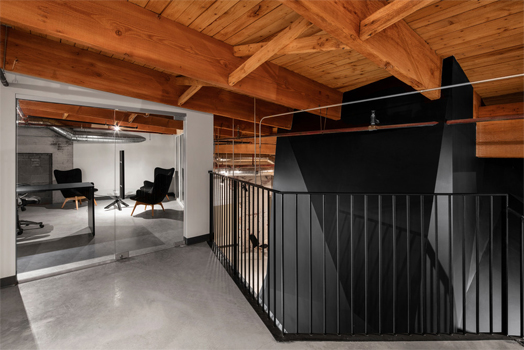 .
As for the light, which is at the core of PixMob's activities, two skylights reintegrated into the actual design as well as windows facing south provide adequate natural light. This also facilitates bespoke intimate artificial lighting, more conducive to creativity and celebration.