Photography:
Stéphane Brugger; courtesy v2com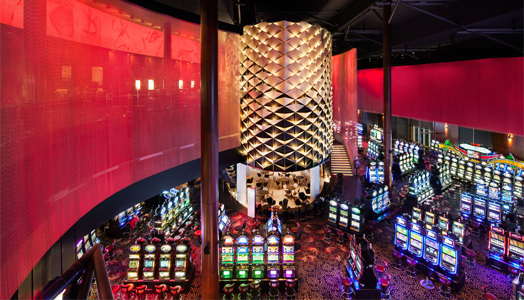 .
Four experts come together to define contextual elements and rejuvenate Casino Lac-Leamy in Gatineau, Canada…
Chaos is perhaps the best challenge that can spearhead a design solution!
Casino du Lac-Leamy in Gatineau was in a state of disarray: undistinguished, cluttered interiors that fostered the most unwelcoming aura. So the architectural intervention mandated by Sid Lee Architecture & FCSD architecture + design consortium was to create a landmark central staircase that would command an aura and root the visitor in both, mind and body!
.
So the layout was blueprinted to "bring coherence to the space; open perspectives to better connect the spaces and identify their functions; and rework the vertical lines offered by the building." And the architects sought to accomplish this via a palpable aquatic thematic – drawing from the context of its location on the shores of a lake.
.
The result is striking - a grand staircase right in the centre of the main space, surrounded by the main game tables and machines on the level below as it connects to the restaurants and discotheques on the floors above. "Designed as a beacon visible from all around the casino, the stairs are dressed with a unique carapace composed of 595 backlit metal scales declined into 94 different models, reminiscent of fish scales and their changing reflections. An iconic architectural element, it centralizes all visual perspectives and asserts the space's identity," explains Martin Leblanc, Architect and Partner at Sid Lee Architecture.
.
.
And the crucial go-getter here is a smart, creative and innovative lighting solution crafted by Montreal-based Lightemotion for an immersive lighting installation as well with Trizart-Alliance for the multimedia segment.
The lighting design creates a direct symbiosis between architectural elements and light, giving rise to an immersive experience that begins at the threshold of the casino and continues through each of the hotel's different sections, flirting with the architectural elements that serve as reflectors, emanating light.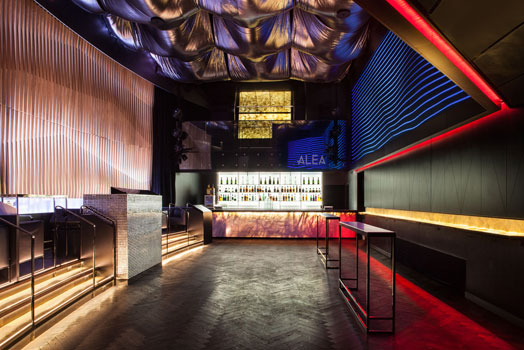 .
"We have also found ways to break the light by using textures that are unnoticeable. It creates a soft lighting that allows visitors to feel like in a bubble," explains Roupinian from Lightemotion.
.
This veritable ambiance radically renews the public's experience, attracting a larger and more diversified clientele, in a unique space offering a multitude of entertainment possibilities. And all this, whilst the design team has worked on the refurbishment and creative lighting exercise all through the casino's business hours - the casino has remained open throughout the renovation!
.
Here's a fine example that stands apart for its strong identity marked by history, culture, and community.