By
Mohammad Reza Domiri Ganji
IAnD brings you a spectacular study of Iran's mosques and monuments via the self-taught lens of budding photographer and Physics student Mohammad Reza Domiri Ganji…
With a keen interest in

Panoramic and Architectural Photography,

Mohammad Reza Domiri Ganji has been painstakingly touring places in northern Iran and photographing its rich heritage – a rare sight that is so breathtakingly beautiful but completely overshadowed by stories of war and bitter strife from the region.
Working with a wide-angle lens and always focusing on light as the prime element while taking pictures, Ganji has showcased his latest collection "

Historic Persian Islamic monuments and Temples" to audiences worldwide.
Here, he shares his 10 best photographs with IAnD readers and also tells us why he considers them the best-of-the-best!
Best-of-the-best: Nasir al, Mulk Mosque:
From the start of dawn, the mosque is filled with colour and light. Sun shines through the glass and fills the inside, the Persian rugs, the ceiling and wall tiles with patterns and colours. Usage of stained glass in the mosque is exceptional; coloured light rays that come inside make this mosque outstandingly aesthetical among other mosques of Iran. The tiling and paintings of the bed chambers are of exceptional beauty as well.
I am so amazed at how the architect was able to combine so many things to build such an exquisite mosque. And this is my best photograph because I was able to show all of these special elements together in one frame.
Vakil mosque:
This mosque has many pillars inside. As you enter, the repetition of these pillars makes the place grand, beautiful and gives the impression of many separate spaces. Also colourful and fine ceramics used in façades
and dome of this mosque are eye-catching and awe-inspiring!
Carpet repair workshop:
Persian Carpets are famous all over the world because of their high quality and accuracy in details and for their unique designs and maps; in this photograph, you can see the spirit of life existing in this old workshop.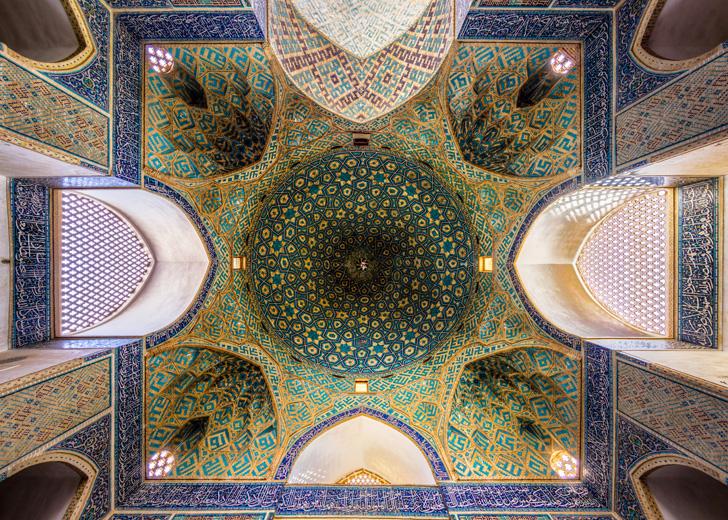 Jameh Mosque of Yazd
Jameh Mosque of Yazd:
The mosque's dome is made of two layers of covers and its altar has fascinating mosaic tiling. The dome of the mosque has amazing arabesque patterns and four skylights, which showcases
geometric shapes.
Verses from The Quran are written all around the dome.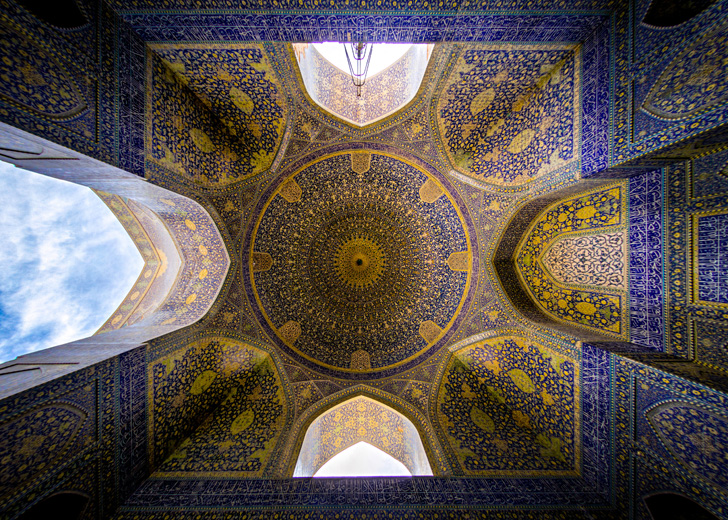 Emam(Shah) Mosque
Emam(Shah) Mosque:
This building has an enormous dome with a height of nearly 57m. Additionally,
exemplary tiling with a unique symmetrical design under the dome and on most
of the inner walls mesmerises
the visitors.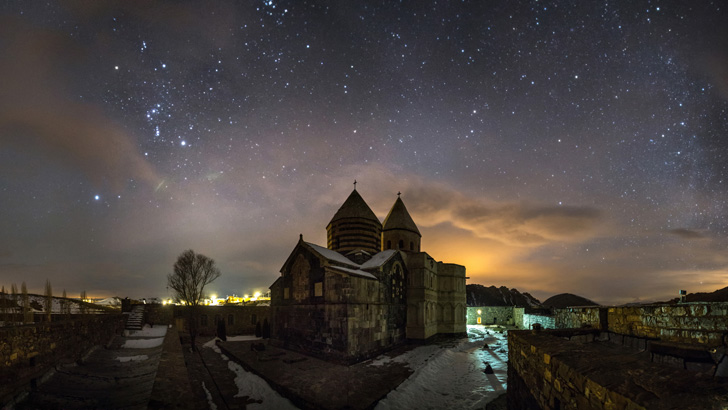 St. Thaddeus Monastery
St. Thaddeus Monastery:
It is also known as Black Monastery due to the application of black stones for the building.
This monument dates back to the early years of Christianity, and is built over the tomb of St. Thaddeus - one of the early messengers of Christianity. This place is recognized as the first cathedral of Christianity.
Kordasht Bath
Kordasht Bath:
This bath has the architecture that comes back to Qajar Era, 1785 and had been primarily used by Safavi royal family; however, it has been opened for public use later on. This historical monument consists of various sections such as a "Bineh", a "Sarbineh", a vestibule, a spring house, and a greenhouse.
Azadi Tower:
This tower was designed and built in 1971 in commemoration of the 2,500th anniversary of the Persian Empire.
The architecture of Azadi combines elements of the ancient Persian architecture of Sassanid and Achaemenid eras, and Post-Islamic Iranian architecture (especially Sheikh Lotfollah mosque).
Private palace of Cyrus in Pasargadae:
Royal palace of Cyrus with an area of 3427 km2 is one of the largest palaces of Pasargadae.
Cyrus the Great ordered its construction (529–550 BC) after his victory over Astyages the last king of the Median Empire, you can see see the remnants of the Audience Hall of the palace with 30 white columns. Plenty of black and white stones were used in this building structure.
Vakil Bath:
The amazing symmetry in the architecture and use of limestone for its embellishments make this bath one-of-a-kind.
The most liked feature of this structure is the paintings
of Persian mythological characters
on the walls and ceilings.
For more of Mohammad Reza Domiri Ganj's works, do visit gravity.ir