Photography: Courtesy Iryna Dzhemesiuk
Interior designers Iryna Dzhemesiuk and Vitaliy Yurov design a luxury villa in one of the most beautiful areas on the coast of the island of Sardinia, Italy…
Flanked by large panoramic windows that seamlessly usher in the scenic outdoors, the home breathes an aura of sumptuousness administered with caution. Why caution? Because what seems on the surface like a rather placid combination of brown and black is a carefully crafted exercise in anointing the interiors with a vocabulary that is uber chic and urbane.
Playing with tonal variations of umber – in the drapes, sofa upholstery, deep-pile carpet, centre table and the unique, intricately-engineered wall panel of hexagonal brass petals that spans the double-height living room, the ambience oozes sophistication. Besides, it appears comfortable and warm and inviting.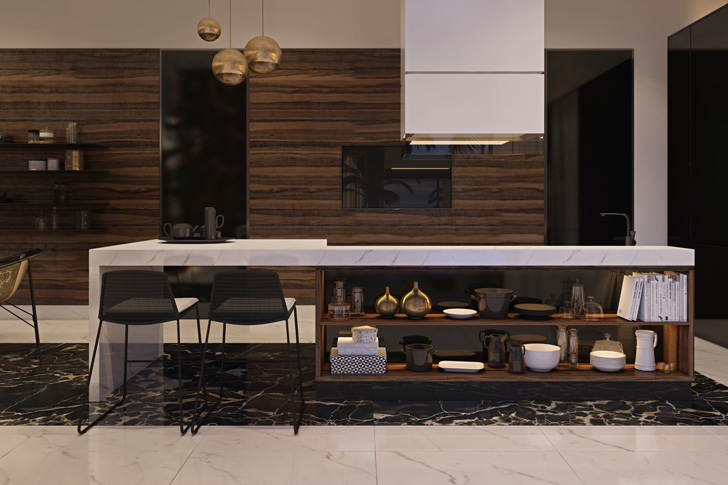 .
Using black as a defining feature, throw cushions and throws are introduced in monochrome combinations and in the striated marble that angles furtively with wood and metal, adding its plush quotient. Besides, going by the tenets of tried and tested design, the colour olive green also strategically and subtly find its place in the living room schema.
The living area revolves around the brass panelled wall cladding as the accent feature; besides opening up the home to the chic patio and swimming pool outside. The colour and material palette is mirrored outdoors.
Complemented by high-end furniture and lighting options, the home – both indoors and outdoors - holistically responds to the varying moods of the day and night.