Compiled by Team IAnD
Photography: Zooey Braun; courtesy Ippolito Fleitz Group
.
'CannstatterJungs"and VfB Stuttgart fans get a whole new refurbished club restaurant that is tradition-steeped in football and laden with stadium atmosphere...
Founded in 1893 as a "club for movement games" in the city district of Bad Cannstatt, the club-restaurant's new look is designed as a meeting place for fans after the game, the best place to watch live football on TV, and the go-to culinary address.
Architects and designers Ippolito Fleitz Group have realised this remit by establishing precisely defined zones with very different atmospheres. With a storyboard comprising a range of football-related resources: from autograph cards and club devotional objects to a ceiling graphic of quotes from players, the history of the club is the overriding theme and runs through the entire space.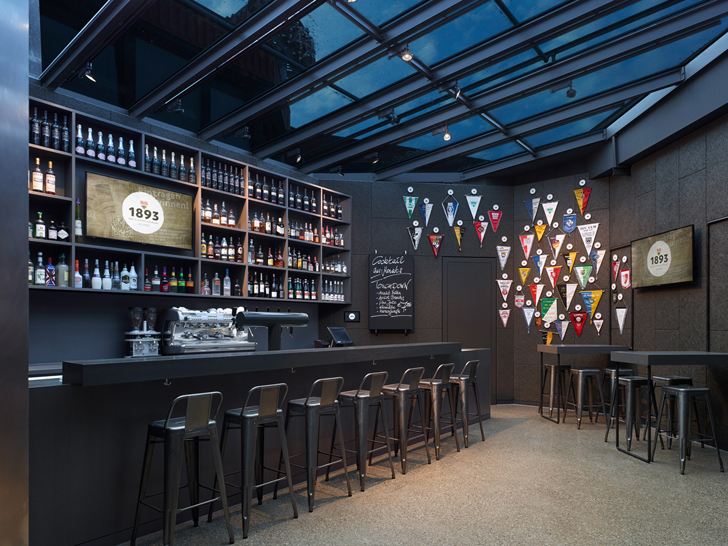 .
So, as you enter a rhizome of quotes - some of them absurd and all of them comical - extends across the ceiling from the entrance. Their positioning creates an optical suction effect, which draws you into the space, inviting you to venture in and explore the space.
.
.
An open, informal and communicative atmosphere prevails with provision for seclusion and privacy. A glass ceiling lets in daylight and the walls are unpretentiously clad in wood-wool slabs, painted in dark colours. The wall covering also serves as an interactive spatial element: Fanclubs can display their devotion to VfB by pinning their club pennants here; and a display case stands tall for changing exhibitions on the club's history, in which the exhibits on display continue the stories from the latest stadium newspaper.
A dedicated fan area is located along the long back wall with its view of the kitchen through a wide-strip window, where fans symbolically meet their heros at eye level. Framed autograph cards show the team of the century, as chosen by VfB fans. People sit closely together here, like in the stadium itself; some of the glass-topped tables narrating additional anecdotes about the club.
As homage to the 12thplayer, a vaulted ceiling bowl spans the area and is decorated with thousands of cheering fans. Its shape recalls the stadium oval and spotlights mounted at the centre recreate the floodlit drama of the stadium; complete with an elevated wooden podium surrounded by a circumferential seating bench, upholstered in artificial leather.
A long window front executed as a folding façade, which can be opened to create 200 additional terrace seats in good weather; 1893 individual red and white ceiling-suspended pennants – as a reference to VfB's foundation year; large flat-screen TVs, a grid of speakers to ensure good quality sound and a generally peppy atmosphere make the club-restaurant a lively place to be in!!