Photography:
Shigeo Ogawa; co
urtesy Aisaka Architects' Atelier
Read Time: 3 mins
.
Ar. Kensuke Aisaka designs a nursery school in Funabashi city, Japan, where children get to observe and learn from nature; nourish their responsiveness and ability to think…
Circular ring-shaped structure around the soil, water and green sums up the layout of the school building that houses 160 children, their parents and staff. The centrally-located two-storey building with rooftop terrace features a 3-dimensional and circuit style structure that uses rooms for office staff, nursery staff and cooks as a buffer between entrance and nursery to provide utmost security for the little inmates; while primary security comes from the solid trapezoid-shape wall and roof.
.
The south quarter of the site is used for entrance walkway, and the rest of the part is for nursery space. Having the courtyard in the middle, planting trees along the outer edge, and installing the deck, slopes, stairs, and the bridge along the circle between them provides enjoyable playground for children and easy access to an escape route in case of emergency.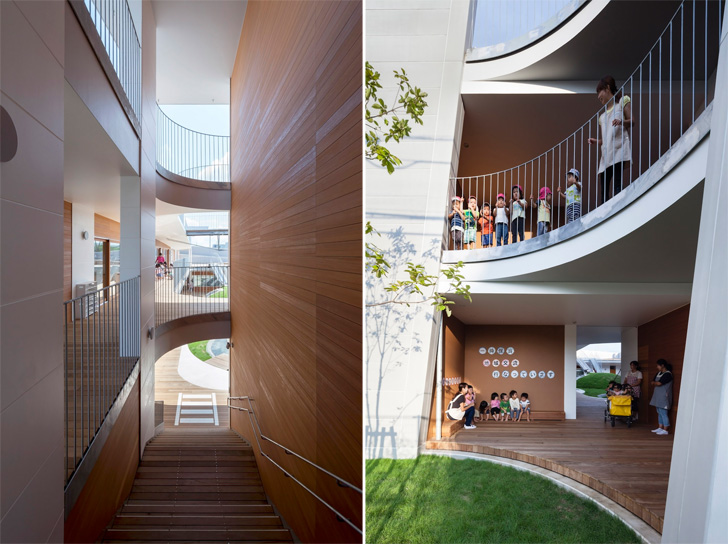 .
Outer space of each floor provides not just open space, but also various changes, such as sunny spot and shade, higher eaves and narrower space under eaves, slopes, hills and cavities produced by changing the direction and the height of floors and roofs, so that children do not get bored.
.
The O-shaped building surrounding the courtyard with an outside corridor uses eaves for weather protection; while t
he half-circle-shaped spot garden helps to improve ventilation. The rooftop deck and vegetable garden act as insulators, whilst the river and the pond reuse rainwater and solar panels produce circulating power.
.
From the perspective of dietary education to develop children's appreciation and interest toward food, the vegetable garden is located on the rooftop and a low lying glass-walled kitchen on the first floor. Watching these structures in daily life, children learn about nature including phenomenon like plants or the wind and rain.
.
.
Pertinent design details include r

ound chamfering for walls and railings and for the edge of light and skylight in every part of the building using it as a motif of design; original textures of each material – wood, steel, stone – are maintained just as 3-dimensional primary-like colours to provide contrasting experiences using the various spatial features and environment.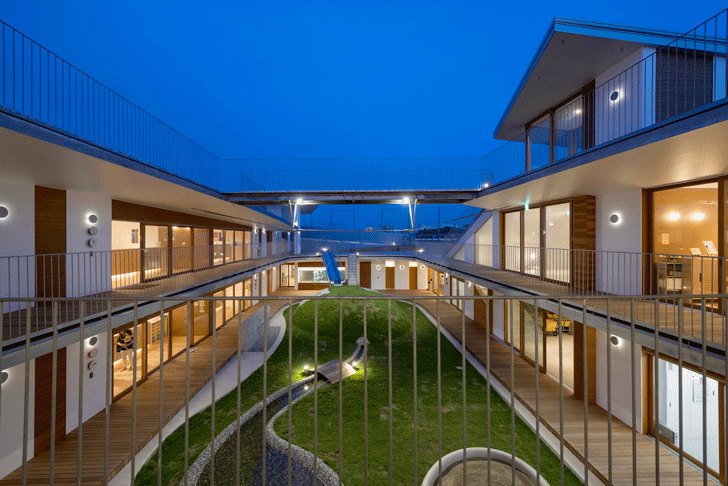 .
"Amane" stands for "round," "around" or "all-around", which represents the wish of the nursery school to let children feel the blessing of the all-around nature and also its architectural feature of circular shape around the woods. We wish that children can go around both inside and outside of the building, feeling everything around here, and nourish their sensibility and ability to think.