By Rutvi Ashar
Photography: Courtesy Jesus Granada
Read Time: 3 mins
.
A must-see home crafted out of hard-work, love and seriously mind-boggling architecture by GilBartolome Architects on a challenging site, addressing a huge list of client requirements and self-expectations...
The 'house on the cliff', constructed on a 42 degree slope is probably second only to the Sagrada Familia in terms of complexity in design and strategies for implementation. The Gaudi-inspired form and play of materials is quite remarkable as is the local workmanship and engineering.
.
.
Using both the hardscape on which it is set and the soft frontage of the Mediterranean Sea, this home invites in the pros of a constant temperature of 19.5 degrees and breathtaking views of its surroundings. A handmade, dynamic metal roofing structure offers tribute to both the dragon skin pattern of the ground as well as the free flow of the water below.
.
The openness in planning allows the living space to be used flexibly, an auditorium with a stage or a hall for large parties. The structural design of two retaining walls 14.5 metres apart allows for a column-free design, open to cater to the various needs of the young clients. The split levels differentiate the public, semi-public and private zones giving each a common view of the exterior, while still maintaining solitude.
.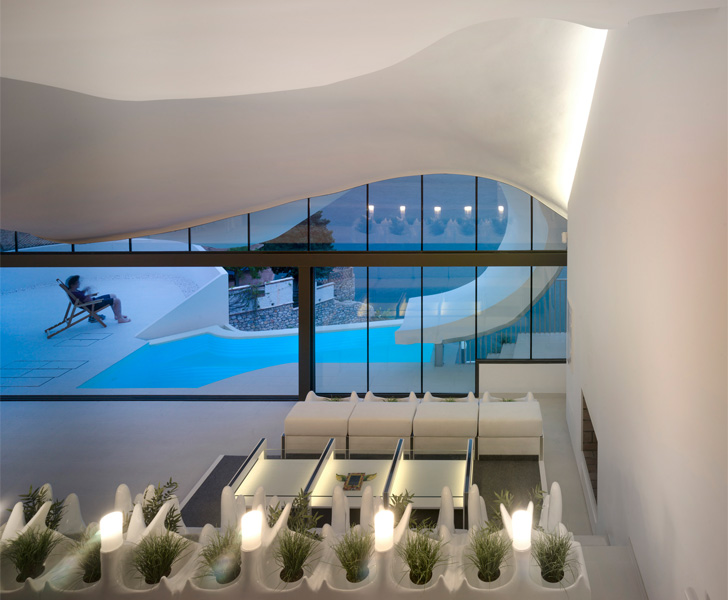 .
The contemporary design could have been envisioned and pre-fabricated in an industry allowing for a shorter construction span; however foresight by the team led to opening up employment for Spanish craftsmen, who were hit by a financial crisis. Every element is executed and put in place by hand, right from the construction of the reinforced concrete curved double shell, bespoke furniture, ceilings and tiling.
The energy efficiency of this structure also sets it apart; a sensorized air cavity is responsible for completely eliminating any dependency on artificial heating/cooling; as does the insulated double shell; enabling this structure to be self-sufficient.
This challenging project is sure to inspire many designers, while it remains an object of envy for others!