Complied by Leah Linhares
Photography: Roberta Donatini; courtesy Cube Architects
Read Time: 3 mins
.
A home speaks a lot about its inhabitants but this three-level habitat tells a tale not only about its residents and but also about its architects…
Driven by challenges, Benjamin Exbrayat and Claire Parrotin of Cube Architects have designed an Asian-inspired home with completely open-plan living spaces in the style of New York lofts for a family of five.
This story of professional expertise began, when the family bought an off-plan with a different vision of how to use the available space; but realised that the units were actually relatively limited in size, in spite of their expectations. Enter Cube Architects with a brief to redesign each room and redefine their needs; the plan now evolved to achieve the best possible reality for the property of their dreams.
.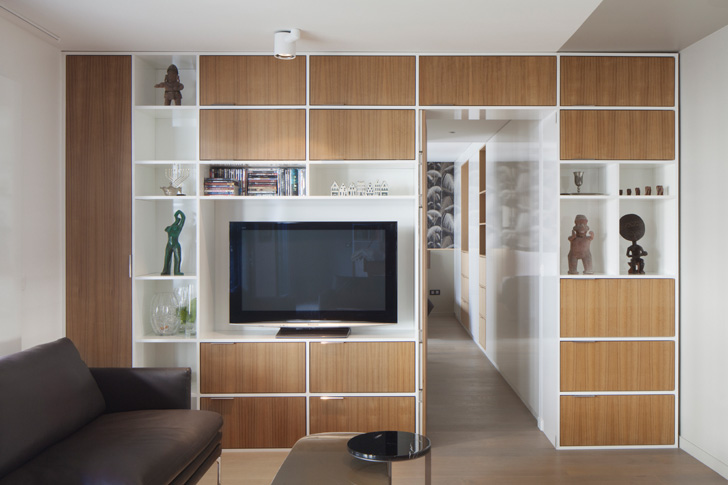 .
Distinguished by use of colour, the main entrance leads through to the dining room, opening to the kitchen. With an understated wall décor favourable to entertaining, a cramped kitchen is now transformed into a welcoming space and the heart of the home. Completed with an unblemished central island in ceramics and anodised aluminium for ease in upkeep; space is enhanced by further layering cupboards in the thickness of its walls.
Similarly, a poorly positioned living room has made way for a family space, both intimate and luxurious with its many custom-built shelves and niches in a combination of white lacquered panels and solid teak – ideal to accommodate artworks collected by the owner; while the clumsily laid-out master suite is rescued with an open-plan bathroom and carefully partitioned wardrobes.
With storage space optimised along wall lengths; colour palettes juxtaposed to augment natural light; and understated decor customised to individual personality types, the restricted material palette of aluminium, oak and walnut and equally simplistic colour palette complete the architect's act of osmosis, spreading life from the heart of the house, making it a home, where fulfilment is the leitmotif.