Photography:courtesy v2com
Read Time: 2 mins
55,000-seat innovatively designed Singapore's National Stadium led by architects and engineers from Arup, is a model for future sustainable stadium design…
This state-of-the-art sports venue located on a stunning, central, 35 hectare waterfront provides a unique ecosystem of sporting, retail and leisure spaces, at the pivot between Singapore's expanding city centre and the wider public community.
Air-cooled for comfort and designed with a movable roof and retractable seating to support the widest range of sports and leisure events throughout the year, it has the world's largest free-span dome, spanning 310 meters. The moveable section of the roof incorporates a matrix of LED lighting and, at 20,000 square meters, it is one of the largest LED displays in the world.
By integrating moving tiers, palletised turf modules and a fully closing roof, this is the first stadium in the world custom designed to host athletics, football, rugby and cricket all in one venue. It also hosts major international concerts, shows and festivals with the dramatic skyline of the city of Singapore as a backdrop.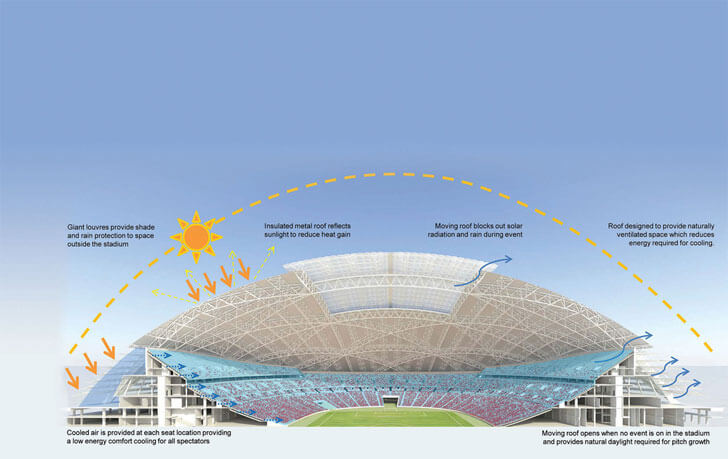 A radical cooling system ensures that the stadium will be comfortable whatever the occasion or sporting event. ©Arup Associates
A model for tropical climate design, the stadium is fitted with an innovative energy-efficient spectator cooling system that delivers cooled air to every seat in the stadium. These pockets of cooled air will reduce energy use significantly, compared to a more conventional overhead cooling system. The ultra-thin dome roof structure with a movable roof that extends over the pitch provides shade during events.
Dynamic design - the stadium in athletics and football mode ©Arup Associates
Adjacent to the stadium are community, recreational and retail spaces, all conceived as an integral part of the wider masterplan, by Arup, DP Architects & AECOM. Landscaping is an essential component of the public realm, its design and planning resonating with Singapore's identity as a Garden City.