By Rutvi Ashar
Photography: Courtesy Design Intervention
Singapore based studio, Design Intervention has won the award for the world's best kitchen 2016 at The International Design & Architecture Awards. So, what makes a kitchen the best in the world?
The basics of kitchen design: Rules of modern home design dictate that a kitchen needs to be an uncluttered and efficient workspace with plenty of storage. Ergonomics play a huge role in the interior design of this space, as comfort is key; another aspect is choice of materials, which are long lasting and easy to maintain.
Needless to say, a modern kitchen with a good layout and design is thus recommendable because it guarantees fundamental features such as comfort, efficiency and convenience. These considerations are evident in the world's best kitchen by Design Intervention.
.
The design intervention: Designers, Nikki Hunt and Andrea Savage have created a cosy space for a family of 4 children and parents, who love to cook, bonding over their love for food. Functional and aesthetic, the kitchen in this Singaporean home is the hub of all activity. Adequate privacy from the rest of the home is maintained without compromising on the open plan.
.
The island: Increasingly popular, the island counter is a part and parcel of the modern kitchen design. Acting as a buffer between the actual prep area (with a mosaic backsplash in bluish tones accentuating copper elements and rose tones in the granite slab) and informal dining, this vibrant, blue, heavily-veined granite-topped, stand-alone counter not only adds to storage options but is the visual anchor and real show stopper. The statement light piece above adds warmth to the entire colour palette and intimacy and scale to the room.
.
Aesthetically resplendent, copper, polished steel and gold tones combine for a thoroughly, fresh and unique kitchen, where the rose tone of the copper adds warmth to the space and a visual connection to the coral tones used in adjacent rooms. Trimming copper fronted doors in steel integrate stainless steel appliances seamlessly into the design. Gold hardware keeps the look glamorous, linking the kitchen with the rest of the home.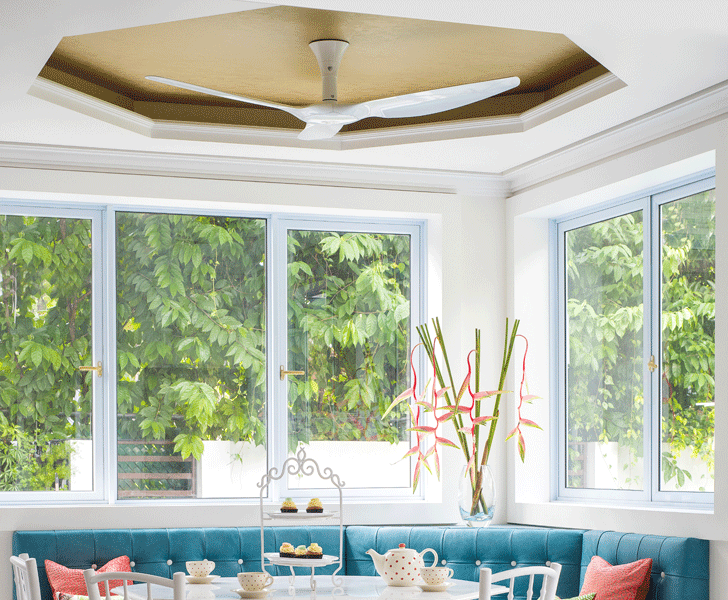 .
.
The banquette: This is a perfect corner for the family to enjoy a relaxed meal or for kids to do homework while mum and dad cook. Sunshine pours in through large windows that bring in a view of the surrounding greens; reflecting off the easy-to-wipe-clean teal blue leather and crisp white surfaces, the button details of which echo in the formal dining chairs in the adjacent room. Side tables at either end of the banquette, lift up revealing valuable storage - they conceal charging stations for electrical devices. The alcove ceiling design adorned in gold leaf adds a subtle touch of glamour.
The Team
A fresh design approach allows for a playful and relaxed setting for the family. An eclectic combination of accessories, colours, materials and design concept make this kitchen stand out above the rest - true to the tag of the world's best kitchen!