By Rita Roy Choudhury
Photography: Courtesy Cégep Marie-Victorin
Read Time: 2 mins
This early education classroom is a flexible smart space that promises to stimulate the youngest minds to nurture the lifelong gift of learning…
Albert Einstein once said, "Logic will get you from A to B. Imagination will take you everywhere". Proving this adage, French school in Montreal, Cegep Marie-Victorin's graphic and interior designers collaborate with end-user educationists to carve out a cheery, flexible, smart space that is designed to do just that - fire a young one's imagination!
The pristine, white walls of the classroom serve as a canvas for the warm images of childhood. Following an 'imaginary-meets-natural-world' thematic, frolicking kids in cheery frocks indulge in the swirly pleasures of ice-creams, befriending imaginary friends, who can fly, hugged by cuddly bears in a verdant forest, - all under the watchful gaze of tutors!
In a clever feat of mixed media, the images are actual photographs of children skillfully inserted in the artist's playful graphics; while the educators are depicted as watermark silhouettes.
Each of the rooms has a distinct feel. While the classroom sees the linear pop of apple green along the ceiling, the playroom sees the cheery green band travel from the ceiling to the floor. This unifying band of colour runs from apple green to yellow and turquoise depending on the room.
The wide white doors allow for a space that can open up to accommodate a large or small class size; its pristine white walls complemented by the reflecting surfaces of the desks. The discrete isolated desks of yore are now replaced by the long, linear tables designed to encourage sharing. The ambience is serene, inducing calm.
Connecting with children on the emotional level, the hallways are lined with lively green circles leading the passageway; symbolic of the bond that binds the teacher and students in life and learning.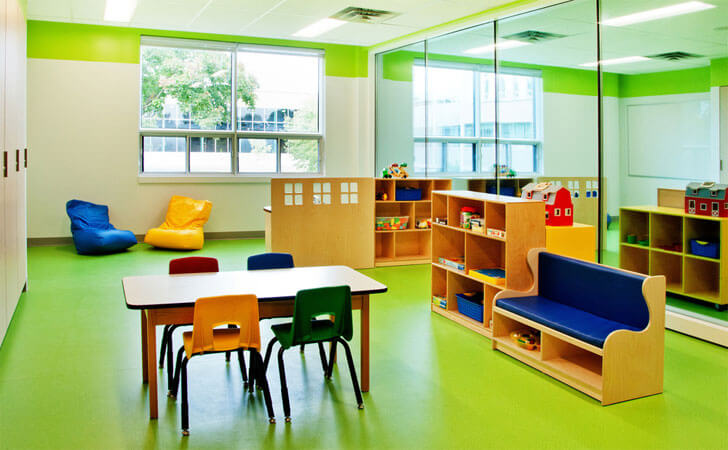 .
This school very sensitively demonstrates the profound effect of learning environments on children. Research has shown that a simple organized environment encourages learning while an unorganized classroom space causes children to be hyper and fidgety with less than desirable learning goals. Do you think well thought out classrooms could mould and shape the early foundations of learning?
Project founder: Sylvain Mandeville, Cégep Marie-Victorin's General Director
Principal project designers: Louise Gélinas, interior designer, and Christine Côté, graphic designer and graphic design teacher at Cégep Marie-Victorin