Photography: Courtesy Thompson + Baroni
A typical
Victorian-era home in London by Thompson + Baroni Architects with bursts of colour in a neutral palette and unending spaciousness is a prime example of new old architecture.
Using
their signature minimal style, the architects completely transform a tired old space in South West London into a warm, open-plan space complete with large seamless openings to the outdoors, bringing in mesmerizing views of the surrounding landscape.
As was the case with most homes from that era, this home too had numerous cross walls and structural members that interrupted the open plan.
Where structural components were unavoidable, they've been hidden in joinery to maintain the clean lines of the walls, whilst the rear-framed sliding doors are designed with a buried frame to allow for maximum uninterrupted views into the garden. Added to this, a neutral palette makes the home appear seemingly larger.
Bespoke is the magic word here; right from the joinery of oak-engineered wood flooring to the kitchen, many elements are tailor-made for this home.
Simple white matte emulsion walls and warm flooring provide the basis for this minimal property, while a stainless steel and oak open-tread staircase steals the show. A raised platform and Vitsœ shelving ensures an effortlessly cool bedroom. In the bathroom, Italian sandstone walls and floors, and teak drawers maintain a clean aesthetic that add a luxurious element to the property.
Immaculate finishing and a strong attention-to-detail by Ray Thompson and Carolina Baroni guarantees that their projects are generously acclaimed. Combining clarity and warmth, the projects are integrated with a strong understanding of return on investment that ensures the space is user-friendly in terms of form, function and economics.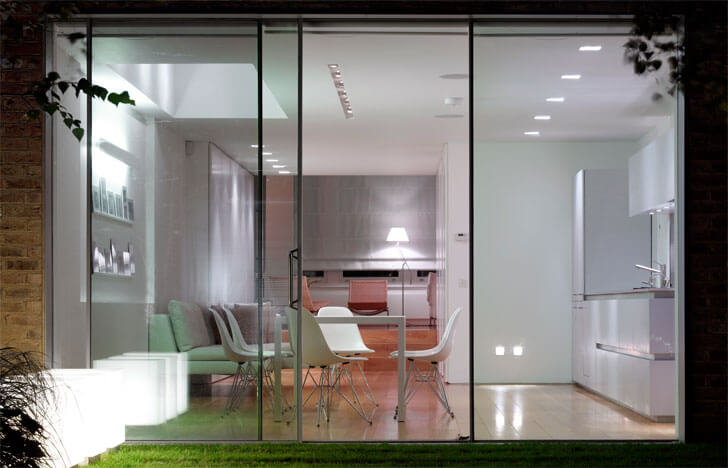 .
.