By Savitha Hira
Photography: Saranin Artemy
Read Time: 2 mins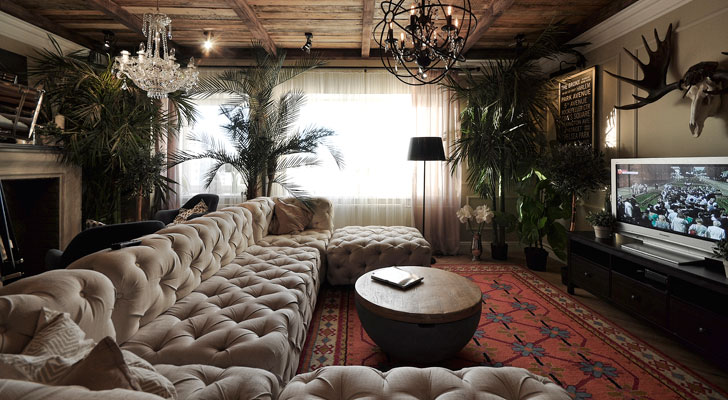 .
Architect and designer Saranin Artemy's home in Perm, Russia takes a cue from a slice of his life!
When Saranin Artemy found the perfect abode for his family of spouse plus three children, he decided to connect the two floors - one above the other - via a wooden staircase with open rungs – that would instantaneously recreate the feel of a country house and not that of an apartment.
So, taking a cue from the feel of a warm lived-in house, the spacious 25 sq. m. living room, which constitutes the heart of the home, is furnished with a bespoke 7m, deep-seated, sectioned, curvilinear sofa that lends the room a soft, playful aura and doubles up as a well-contoured, meandering space for the kids to play.
.
Everything else seems to emanate from this singular element of design. The cosy nook of a fireplace behind the sofa; the TV viewing family time; the semi-circular games and activity zone; the thought-provoking discussion arena… and the like.
Juxtaposing simple natural materials viz., stone, metal and wood and working on a pragmatic expense mode, the home is finished with an entire wall in exposed bricks (tiles, actually), and a ceiling of old Finnish boards. The rustic appeal of this interior envelope is complemented by a reindeer head and plenty of tall indoor plants that bring in pulsating life. At the same time, the plushness of the wide sofa and the carpeted floor; the gleaming chandeliers and candelabra lights stand in contemporary contrast, weaving a distinct narrative.
Old-world charm is also introduced via mouldings on painted walls and almost immediately juxtaposed by a completely modern setting in the cosy kitchen-cum-dining area. With the private quarters relegated to the floor above, the home is anointed with a warm timeless feel. Personal memorabilia like a guitar, a flag-painted cabinet-cum-chest of drawers, wall panels with routes to New York and Los Angeles, copies of Salvador Dali's paintings by Saranin himself… value add to the lived-in feel.
Design Firm:
ALLARTSDESIGN
Principal Designer/Architect:
Saranin Artemy
Location: Perm, Russia Federation