Photography: Courtesy the architects
Read Time: 2 mins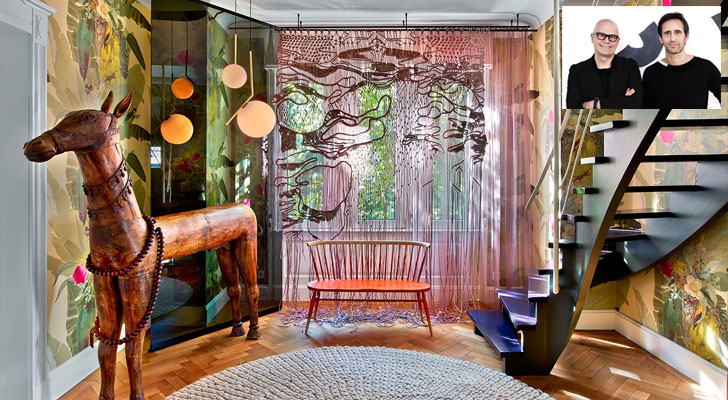 .
Ippolito Fleitz group redesigns a home in Stuttgart, creating a strong graphic counterpart to the typically bourgeois Wilhelminian architecture…
A listed Wilhelminian building in a sought-after location on the edge of Stuttgart's city centre stretches over two floors with an unusual tapering floor plan that resembles a slice of cake. The 290 sq. m. apartment is a brimming blend of styles - a vibrant cabinet of curiosities,
filled with mementos and inspirational pieces, which they have collected or sourced on the homeowner's various travels.
.
.
A characteristic period feature of the building is its layout of individual rooms grouped around a central hallway. This layout was carefully modified, respecting the building's listed status, to create a spacious, open discourse with shifting vistas and overlapping perspectives.
The upbeat is given by a pale grey, gallery-like hallway, at the head of which is the living room – a salon-like space with strong contrasting colours, intense graphic elements and large forms. The interesting layout has the salon and the dining room connected at the far end by a by a small room with a bay window. The entire interior vista comes alive juxtaposing the graphic character of one room with the textile materiality of the other, as it merges in a specially-commissioned psychedelic wallpaper, which challenges the eye and forms a provocative backdrop to several colourful artworks.
And this is the mainstay of this vibrantly unique apartment: a wooden bench from India, which draws you into the space, accentuating the suction effect of the trapezoidal layout; a lemon-yellow bookcase positioned against powder blue walls; a Moustache chair; Uzbek ikat cloth, Indian silk embroideries, Laotian textile applications and African Losa basketwork, a ceiling mural by Alix Waline, a life-size wooden horse -

an archaic artefact from India…

the list is endless! And the memorabilia are bound together by a black herringbone parquet floor that runs throughout the apartment, lending a flowing feel and creating a strong design vocabulary against the typically conformist Wilhelminian architecture.
The bedrooms are relegated on the floor above, along with a private TV lounge, a spacious study, gym room and library, and a generous terrace with a view of the treetops in the neighbouring avenue. Multiple mirrored surfaces expand the space and create optical bridges to the rooms by means of reflections. The soft atmosphere with the salmon-coloured backdrop stands neutrally, paradoxically contrasted by dark wood, leather, free-standing furniture commanding centre-space, even bold scintillating contrasts that build a unique narrative – full of intrigue, layered with sensitivity and sensuality.
The maisonette is a museum of memories and a showroom for the creativity of its owners, in one. In place of a closed, consistent aesthetic, the apartment functions as a collage of variegated moods. Yet, despite their seeming disparity, a synthesis is achieved that perfectly reflects the personality of the owners in the individual rooms.