By Beverly Pereira
Photography: Amit Geron & Golany Architects; courtesy Golany Architects
.
Golany Architects designs a residence in Galilee that takes into consideration the raw landscape that surrounds it.
The two-storey residence is situated on a lot at the edge of a village in Galilee, overlooking mountainous terrain and hugged by the Sea of Galilee. Having ascertained the exact level at which the sea first meets the eye, the home is designed to offer unobstructed views into the great wide-open, as it stands sans retaining barriers.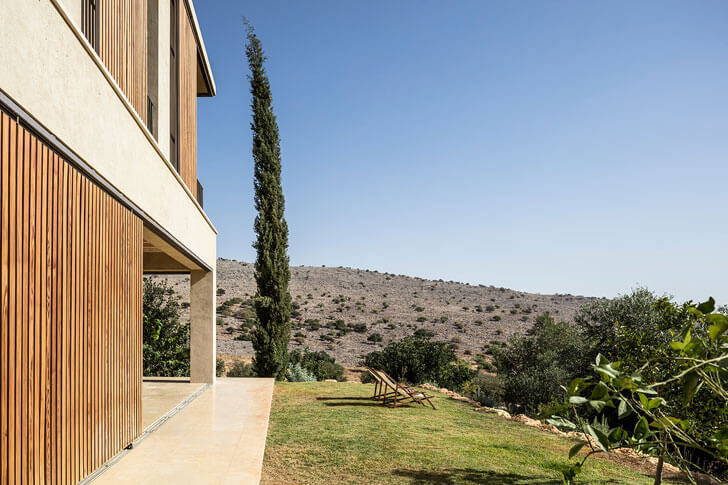 .
.
The Tel Aviv-based architects adopt a sustainable and environmental approach, throwing open floor-to-ceiling windows to usher in sweeping views to the south and east.
.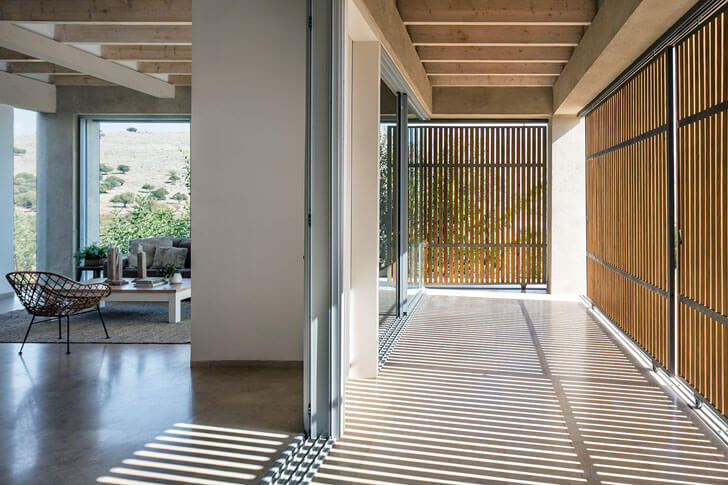 .
The harsh sunlight that comes into the home is controlled with wooden shutter lattices, a nod to mashrabiyas, typical of the Mediterranean region, that slide according to the sun's position offering shade and privacy without obstructing the panoramic view.
.
.
Given the heavy heat typical of the Jordan Valley slopes, the recessed placement of windows and doors on both levels creates a double-skin envelope of sorts that improves the home's climate control. The chiaroscuro effect, when light rays penetrate through the slits, creates a magical setting inside.
.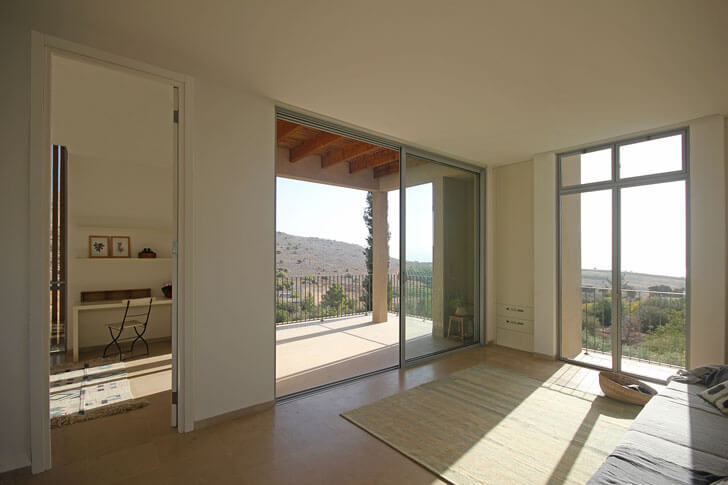 .
These outdoor-indoor spaces, between the glazed doors and latticed shutters, also serve as an outdoor sit-out area. While the shielded balcony at ground level becomes a natural extension of the living and dining areas, the intermediate balcony on the first floor does the same for the family room.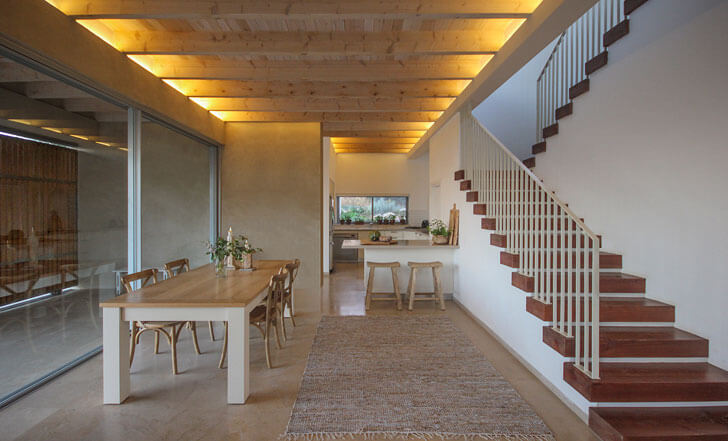 .
This clever creation of outdoor spaces continues in other bedrooms on the first level, too, where small, vertical louvres offer unhindered views of the private garden as well as of the village fields, sea and the Golan Heights. Openings on the rear elevations capture views of Mount Canaan and the old town of Safed.
The natural palette is integrated with the pastoral surrounds. Cement textured plaster, timber shutters, light brown stone, and the wooden ceiling with towering beams mimic the yellowish-brown ridge at the front, the rugged soil and Olive and Carob groves, where the horses graze.
.
Further, by building the house among the existing cypress, oak and other mature trees, and by planting rosemary, lavender and spice plants amid the rocky terrain, the home captures the essence of the environment.
Architects: Golany Architects
Lead Architects: Galit Golany, Yaron Golany.
Location: Galilee, Israel