By Annie Aggarwal
Photography: Courtesy Architect Show
Read Time: 2 mins
.
Architect Show, Japan designs a compositional marvel – a residence that serves a sculptural role in the developing rural area of Isahaya city, Nagasaki, while a humble abode awaits the family within…
Composed of four masses, two slender with flat roofs and two bold with slanting eaves and walls, the residence stands as an iconic architectural structure in the peaceful rural environment. The masses are staggered in elevation and plan, each one harmoniously complementing the other, while finishes add a dimension of play, contrasting and bold, red cedar and rough black finish against stark white walls. Minimal openings, sleek and in sync with the overall composition puncture the front façade, while the back floods the house with light through a vertical louvered façade.
.
.
Once within, a contrasting ambience takes over, as one is welcomed with abundant skylight, falling upon a court with plantation and penetrating the spaces of the home. The living and dining spaces are both open to a sky-lit terrace. The terrace balcony protected along the edge by wooden verticals introduces a play of light and offers a space for private parties. While the more private areas of the house, the master and children's bedrooms as well as the bathrooms on the upper level, receive apt diffused skylight from the courtyard, ensuring privacy and security, the wooden verticals that form the outer boundary wall shower the space with ample natural light, casting interesting chiaroscuro elements across the spaces.
.
.
The harmonious composition of semi-open and built with pockets of green makes for comfortable spaces, at the same time providing a sense of openness to the home.
.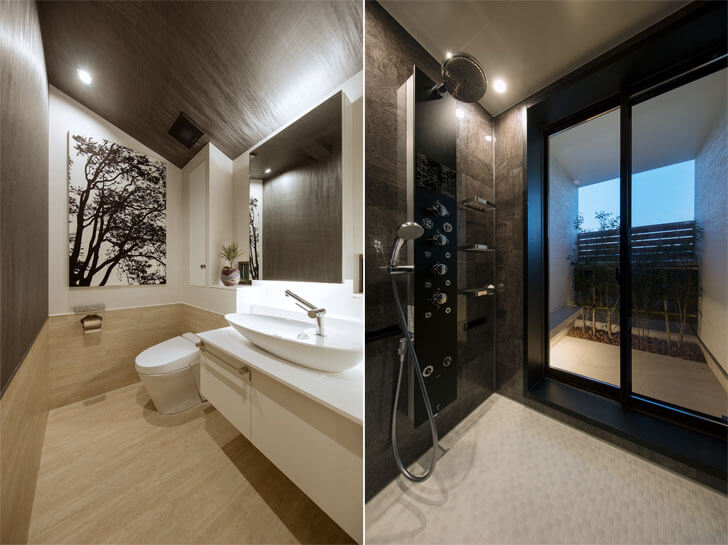 .
The sloping ceiling and wooden verticals, all finished in red cedar add a sense of drama to the living space, adorned with elegant furniture and channels in the ceiling that cater to ambient lighting for the living and dining spaces. The bedrooms and bathrooms, appropriately cozy are finished in a combination of subtle, dark colours and lit minimally to create pleasant spaces.
The house meets the family's requirements of an elegant and humble home, while the built structure stands testimony to iconic architecture in context.