By Annie Aggarwal
Photography: Sui Sicong; courtesy the designers
Read Time: 2 mins
Chromatic spaces (inset) l-r: Gunter Fleitz & Peter Ippolito
Identity architects, Ippolito Fleitz Group lend a unique identity to a show apartment in Shanghai, aptly christening it 'Chromatic spaces'!
This out-of-box residential project offers premium high-rise apartments with a colourful interior to facilitate quality environment for a healthy, calm and relaxing lifestyle. Ippolito Fleitz offers future homeowners a glimpse into the array of possibilities for their home, where a constant play of colours and textures immediately capture one's imagination.
.
.
A vibrant colour scheme, dominated by primary and secondary colours brings the 250 sq. m. loft-like layout alive, lending the space an energetic, stimulating yet cosy atmosphere. As one enters, warm wooden vertical slats filter the bright colours of the living and dining beyond. A bright red conical lamp, and cyan blue chairs backed by a rich green pillar characterise the dining, as a deep blue wall contrasted against a yellow ceiling recess marks the transition to the spacious lounge in a striking fashion.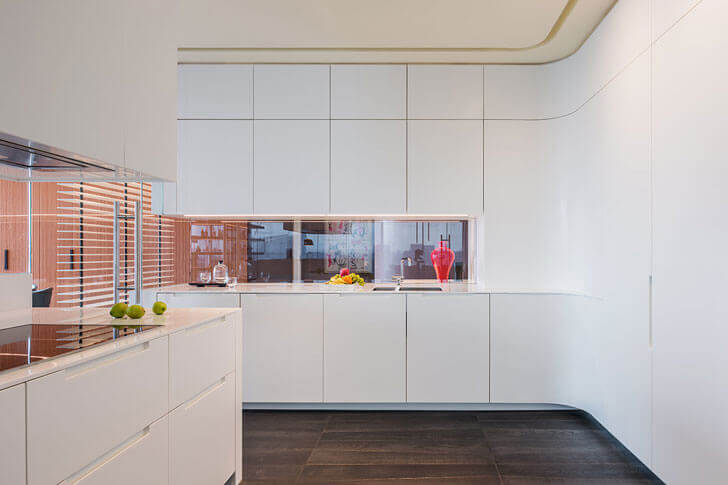 .
.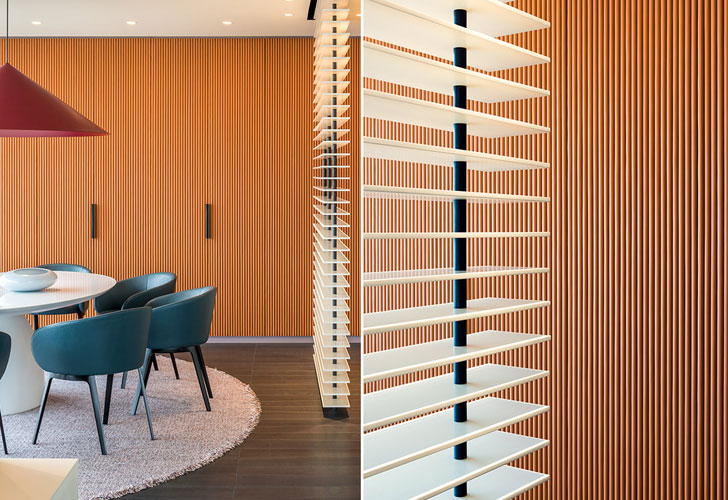 .
.
The centrally-located white modular kitchen with transparent glazing and the adjacent bar section offers a subtle visual and interactive connect amidst the bold spaces of the house. Pillars, shelves and storage constitute dominant sculptural volumes that act as space dividers while carving out valuable zones of private retreat. The harmonic interplay of colours and exciting contrasts recur in the private bedrooms with refined wallpapers in shiny bottle green and yellow tones, as well as metallic mosaic tiles (rose-coloured and grey) that reflect the colours of the skyline.
.
Textures and clear geometries further enhance the chromatic spaces of the apartment: traditional Chinese folding-screen in the living room; also, encounters with curved elements and walls throughout the apartment lend a sense of comfort. Soft furnishings, fluffy carpets and delicate curtains create a cosy, homely haven. While premium furniture and eye-catching built-ins facilitate zoning and offer exciting surfaces and versatile material to showcase the colour palette.
.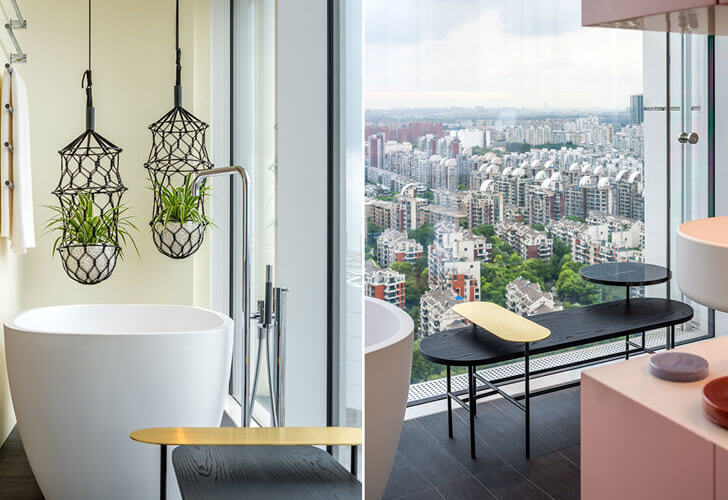 .
Each space of the house is interwoven with breath-taking views of the city and the surrounding 20,000 trees, thanks to floor-to-ceiling glazing in the living spaces and bathrooms, and the balconies in bedrooms, which guarantee a smooth transition to the exterior, providing residents a calm naturalness and a private view of Shanghai; also ensuring abundant natural light streaming in, making the colours come alive.
.
'Chromatic Spaces' exhibits a modern and individualistic view of decorating show apartment, where a play of colours and contours express the joy of living and convey the perfect balance of vibrant energy and relaxed generosity.